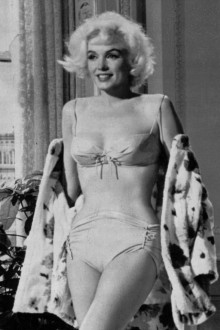 Film actress Marilyn Monroe was born Norma Jean Mortenson in 1926 in Los Angeles, California and became one of the world's leading sex symbols. Before breaking into film, Monroe began her career as a model in the 1940s before landing roles in 1950's The Asphalt Jungle and All About Eve.

By 1953, Marilyn Monroe was making a name for herself as a bubby blonde sex symbol in films like Niagara, Gentleman Prefer Blondes (which featured the star singing Diamonds are a Girl's Best Friend in the now-iconic fuchsia column-gown), How to Marry a Millionaire, There's No Business Like Show Business, The Seven Year Itch (in which Marilyn wore the unforgettable white halter dress with billowing skirt), Some Like It Hot (which earned the star a Golden Globe award) and 1961's The Misfits.

Marilyn Monroe's timeless style and beauty – the beauty mark, the platinum hair, the sultry eye makeup and the celebrated curves poured into low-cut dresses – has set the standard for the sex goddess image and continues to be imitated to this day.

Marilyn Monroe was immortalised in a series of prints by artist Andy Warhol and the star's personal life and relationships with baseball player Joe DiMaggio, playwright Arthur Miller and rumoured affair with President Kennedy also contributed to Marilyn's mystique. Marilyn Monroe died of a drug overdose at the age of 36 in 1962.