We're not sure about you but we don't think that Chris Brown is really one to be dishing out relationship advice *shudders*. So picture the scene, you're having a boogie in a trendy LA nightclub when Mr Rihanna takes to the mic and starts SINGING his words of misguided wisdom - awkward, not to mention kinda offensive and very sweary. The 23-year-old rapper took to the DJ booth at the Emerson Theatre on Friday night and announced to the crowds, "I sing, right? I'm going to spit you some real s**t so you can hear something real quick." We imagine the clubbers weren't best pleased about this, not that Chris took any notice.
After inviting his make-shift audience to cop a feel of his private parts (vom) the singer launched into a part-rap-part-song rant about how to handle your girlfriend.
"You gotta say that one thing to her... Don't make me have to tell you again, that's my p***y baby... So you better not give it away! So every person in this motherf***ing building, if you got a bad b***h you better say that s**t to her, or she might f*** another *****." Lovely. Click here to watch the full video, at your own risk.
Remind us why Rihanna is with this bloke again?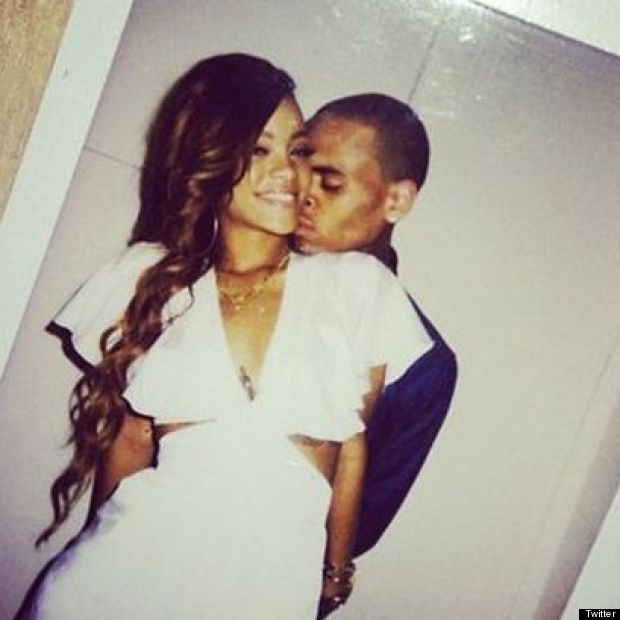 Team MyDaily think it's about time Chris Brown got back in his box and shut the 'eck up... So, we hereby propose a campaign to gag the Brownster once and for all before his mouthy ways manage to offend the entire planet (if they haven't done so already).
First of all, he should probably be banned from Twitter, Instagram, Facebook, the lot AND then there should be some kind of restraining order set up to make sure he doesn't EVER come within twenty feet of a microphone/loudspeaker. Do you reckon that would do the trick?
Five reasons why Chris Brown should be gagged...
1. If anyone else did what he did on Friday night all their mates would ditch 'em. He only gets to act this way and still have pals because he's famous. Lame.
2. If CB was your boyfriend you'd dump him. Without even half-thinking about it. If the beating and the bar fighting wasn't enough to warrant your departure, we're pretty sure his attitude towards women qualifies as the straw that broke the camel's back. Plus you'd be embarrassed to admit, when people asked you who you were seeing: "Er, the guy on the stage rap-singing."
3. The world is bored of waiting for something remorseful, intelligent or worthwhile to come out of his mouth. Tick tock.
4. When was the last time Chris had something positive to say? Clearly this one's never heard the phrase, "If you don't have anything nice to say, don't say anything."
5. If he kept his mouth shut we wouldn't have to see that gold tooth EVER again. Internal bling is not cool.
Loading Slideshow
RiRi hit back at fans who dared to question what the suspicious white powder on top of the man's head was in a photo she posted at Coachella Festival, labelling them 'pathetic c*nts'. Nice.

While there isn't hardly an inch of Rihanna's skin we haven't seen before, we were still shocked when she stripped completely naked for GQ in 2012.

Rihanna used to love the c-word, and would wear it emblazoned on necklaces and t-shirts, that was until she was shocked to discover the word was actually offensive.

As RiRi hit a strip club with her pals in 2012, she was seen throwing dollar bills at the performers. She tweeted: "#ROCstarshit my daddy would be proud". Yep, bet he was beaming.

When Rihanna appeared on 'The X Factor' final in 2010 along with Christina Aguilera, their raunchy performances racked up over 1,000 complaints to media regulator Ofcom. It led to a ruling stars would have to cover up to appear on TV before the 9pm watershed.

Rihanna was seen brazenly smoking a suspicious looking cigarette whilst holidaying in Hawaii in 2012. She even tweeted: "Kush rolled, glass full...I prefer the better things!" - and for those of you not down with drug lingo (unlike Rihanna), 'kush' is a type of marijuana from the Middle East.

"Come here rude boy, boy can you get it up?" sings Rihanna on her 2010 hit 'Rude Boy'. Such a good role model.

Rihanna had us all worried when she tweeted a picture of herself hooked up to a drip and then went quiet. While everyone speculated she had been rushed to hospital, suffering from exhaustion, others said she was receiving an intravenous vitamin boost, popular with many popstars.

Rihanna and Chris Brown teamed up to record 'Birthday Cake' for her sixth album 'Talk That Talk' in 2011, giving us the first sign they were back in contact after he beat her in 2009.

Rihanna dresses as a weed fairy for a Halloween party in Hollywood in 2012. Whatever happened to plain old Frankenstein, eh?

While most of the male population may love RiRi getting naked, one person who didn't was farmer Alderman Alan Graham. After she froliced around topless while on his farm to film the video to 'We Found Love' in 2010, he insisted the star cover up or get off his land.

This was the scene of a New York nightclub in June 2012 after a brawl erupted between Chris Brown and Drake, allegedly over Rihanna.

The world was aghast when Rihanna confessed she was still in love with ex Chris Brown during a tearful interview with Oprah Winfrey in 2012.

Rihanna unveiled a shocking new addition to her body art in 2009 - a tattoo of a gun on the side of her rib cage.

Rihanna singing about 'chains and whips', whilst provocatively sucking on her finger. Her video for 201 hit 'S&M' was RiRi at her saucy pop best.

In what was to become the biggest PR disaster ever, Rihanna invited a bunch of journalists and fans to fly around the world with her as she plays seven gigs in seven countries in seven days. The result was far from a party in the sky, with the journos comparing it to prison as RiRi refused them access to her, and only made two brief appearances during the whole week.

Amid rumours they were more than just friends again, Rihanna planted a smacker on ex Chris Brown at 2012's MTV VMAs, leaving viewers gobsmacked.

Rihanna was at the centre of a race row when she picture of a bag of rice cakes wearing sunglasses and a pair of earrings alongside the caption: "Ima a make u my b****". Later in 2012, her best friend used the term (which is a slur against people from Asia) to insult Chris Brown's ex Karrueche Tran, who is part Asian.

She may have appeared as a guest at the Victoria's Secret Show in 2012, but RiRi saved her sauciest antics for after the show when she tweeted a snap of herself in a state of undress.

Rihanna has never made any secret of her fondness for a bit of the green stuff and told fans she 'didn't really give a f*ck' what they thought when she tweeted a picture of a nug of weed in 2012. Charming.

After months of speculation, Rihanna finally confirmed she was back wither her abusive ex Chris Brown in an interview with Rolling Stone magazine in January 2013.

RiRi was branded a 'desperate freak' by PETA in 2012 when she stepped out wearing snakeskin boots. "Rihanna may not have a clue that snakes killed for boots are often nailed to a tree and skinned alive. Of course, they can't go on Oprah to cry about it," they said. Ouch.

Rihanna seemed to enjoy riding on a rather suggestive looking pink tank during Last Girl On Earth tour in 2010 a little too much, if you ask us.

Rihanna was criticised for a shaky performance at a Swedish music festival in 2012 after she arrived 45 minutes late on stage, seemed disorientated and was accused of miming. It followed the death of her beloved GranGran Dolly days earlier.

Errr, yes Rihanna, we can see your nipples. And your underwear.