When your Fashion Priest looks to the skies, he sees heavenly choirs of angels rather than alien spaceships. That's all set to change this season, with the retro-futurism movement making us all dress like space cadets.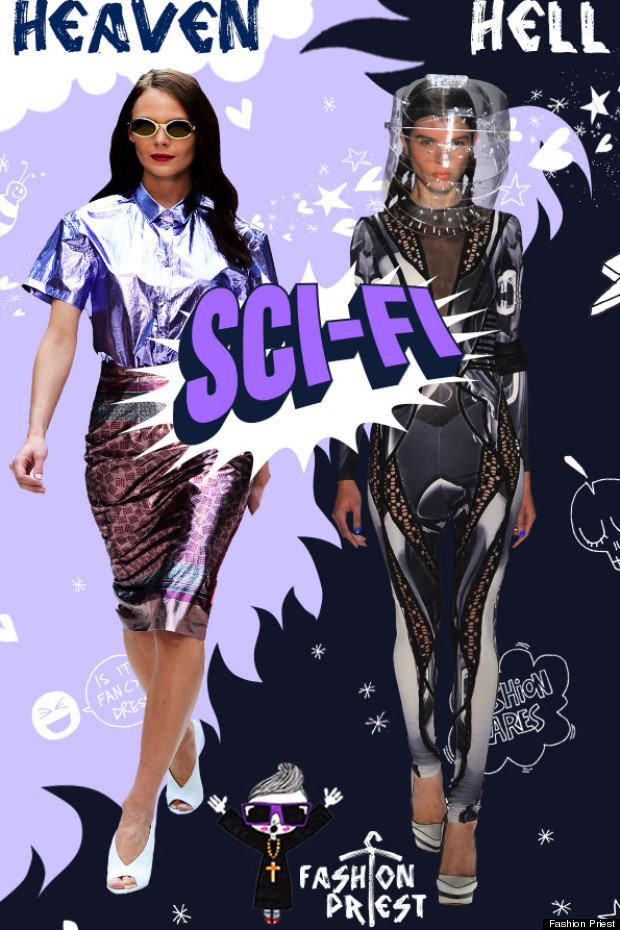 The likes of Preen, Balmain, Fay, Moschino and the Karldinal himself, Saint Karl Of Lagerfeld, are using metallic fabrics and astronaut accessories to go back to the future. But who's taking a giant leap for fash-kind and who's crash-landing in a couture crater? Let's go star trekkin' across the universe…
Loading Slideshow
Heaven

<strong>Wearable Robot</strong> OMholyG. Deity-like designer Christopher Bailey at Burberry blasts into both past and future. Hourglass-shaped Mad Men style realised in bold metallics. Robo-retro revelation!

Hell

<strong>Sci-fi B Movie</strong> Alexander McQueen's SS13 collection foresees the day when giant bees invade the earth. Buzzy in a bad way, it's enough to bring you out in hives. Honey, I'm home. But I look like a mental.

Heaven

<strong>Android Vamp </strong> Ashley Madekwe from Revenge (one of your couture clergyman's TV guilty pleasures) arrives at Art of Elysium's Heaven Gala in a chic metallic Naeem Khan gown, accessorized with Judith Leiber pewter satin clutch and Saint Laurent sandals. Absolution fabulous!

Hell

<strong>Helmet Hair</strong> No, my children, Doctor Who's special effects budget has not been slashed. This is Junya Watanabe joining the space race by sending out his poor models wearing metallic mosaic helmets with silver hedgehog prickles. Maybe Junya's having a senior moment.

Heaven

<strong>Spaceship Chic</strong> Belle Sauvage's SS13 collection achieved lift-off with sci-fi pop prints and edgy silhouettes. Houston, we don't have a problem. Apart possibly from sore feet in those boots.

Hell

<strong>Fancy Dress</strong> Falguni & Shane Peacock have clearly been watching Fritz Lang's Metropolis with a crate of communion wine and a sketchpad. This exo-skeleton ensemble won't translate onto the high street. Unless that high street happens to be on Mars.

Heaven

<strong>Metallic Peek-a-boo</strong> Amanda Seyfried plays it admirably minimal at the BAFTA Tea Party in LA with a glimpse of heavy metal blouse beneath her cream Vionnet dress, matched with metallic Jimmy Choo sandals. Hallowed be her name.

Hell

<strong>Pet Shop Boys</strong> Isn't this what runners get wrapped in at the end of the London Marathon? Richard Nicoll's AW13 collection wraps itself up like a Christmas turkey in a Bacofoil coat, accessorised with mini-beanie. Not on my watch, darlings.

Heaven

<strong>Sci-fi Swimsuit</strong> Falguni & Shane Peacock's cyber-swimsuit will whip up a sand storm on tropical beaches this summer. Bonus: that Plexiglass helmet will keep away mosquitoes too. Practical, n'est pas?

Hell

<strong>Robot Face</strong> Louise puts the Roe into robot. Poor love clearly thought the Weinstein Company's Golden Globes After Party was fancy dress. Silver foundation? Fashiony blasphemy! She's taking the Metal Mickey.

Heaven

<strong>Fembot Siren</strong> Holby City actress Rebecca Fernando refuses to be a fashion Casualty, arriving at The Hobbit premiere in silver glam-gown and matching clutch. Can you hear the yums, Fernando?

Hell

<strong>Shoe Dystopia</strong> Prada's SS13 show foresees a bold new future where Hello Kitty takes over, Spirograph designs adorn ninjas' pyjamas and gold lame sock-booties don't look like C3PO's cast-off slippers.