Listen up! We've got some exciting beauty news to share with you this morning. Lancome is teaming up with fashion designer extraordinaire and Lanvin creative director Alber Elbaz.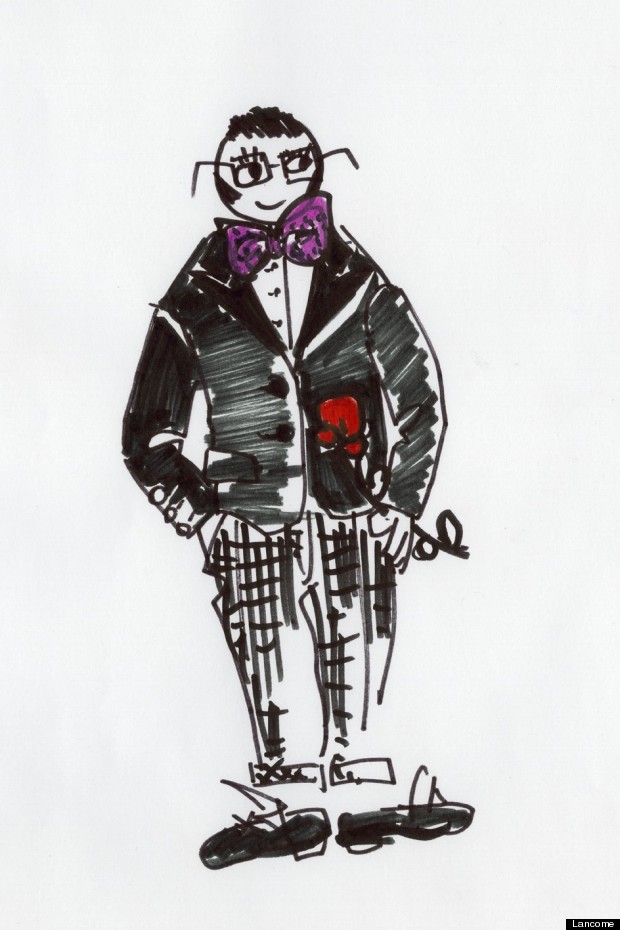 After Karl Lagerfeld's collaboration with Shu Uemura last year, we didn't think the merging of fashion and beauty could get much better. Elbaz's quirky, playful take on style meets blusher, lipstick and mascara? Yes, please. And don't even get us started on our hopes for the packaging...
In their press release, the brand's president said, "[Elbaz's] sense of luxury, his vision of femininity and that hint of audacity resonate perfectly with the new values of the Maison Lancome. We are extremely proud and happy that, with us, he is set to channel his universe into the world of make-up for the very first time".
We're pretty chuffed, too. There's no word on what's in store as yet, but we do know that we can expect to see the collection in full when it's revealed to the world on June 15th. Five months and counting.
Here's more of Elbaz and his work at Lanvin:
Loading Slideshow
Gilda Gray, circa 1924

Hollywood film actress, singer and dancer who is believed to have invented the 'shimmy' dance, wears an evening dress by Lanvin.

London, 1960

Hedda Marks models a coat made of jaguar fur by Lanvin during a showing in London.

Lace, 1967

A model wears lacy trousers and top designed by French fashion designer Lanvin.

Wedding dress, 1968

A full length romantic style wedding dress by Jeanne Lanvin in ribbed voile is sleeveless and worn with a high waisted sash. A wide, floppy brimmed hat in the same material ties under the chin with a bow to match the sash.

Paris, A/W 1994/5

A model presents a doudoune in white-silk taffeta, over a waistcoat in silver-basket weave organze and pants, in a grey-stretch silk crepe by Lanvin.

Academy Awards, 2002

Actress Jada Pinkett Smith arrives wearing a white and yellow Lanvin gown.

Paris, A/W 2004

Models walk the runway during the finale of Cristina Ortiz's presentation for French fashion house Lanvin.

Taipei, 2004

A Taiwanese model displays a winter dress by Lanvin.

New York, 2004

Actress Nicole Kidman wears Lanvin.

Paris, S/S 2004

Canadian supermodel Linda Evangelista presents a gold Lanvin creation.

Paris, S/S 2004

Designer Alber Elbaz acknowledges the audience alongside Canadian supermodel Linda Evangelista after his show for Lanvin.

Paris, A/W 2004/5

A model presents a purple creation by Albert Elbaz for Lanvin.

Paris, A/W 2005/6

A model presents a floral creation by Alber Elbaz for Lanvin.

Paris, A/W 2005/6

Alber Elbaz acknowledges applause at the end of his show for Lanvin.

Beijing, A/W 2005/6

Models parade the Paris fashion house Lanvin's collection at a show in Beijing.

Paris, S/S 2006

A model presents a creation by Alber Elbaz for Lanvin.

BAFTAs, 2006

Actress Charlize Theron arrives wearing a Lanvin gown with split.

New York, 2012

Actress Emma Stone wears a red Lanvin dress.

California, 2012

Actress Tilda Swinton arrives wearing a cream floor-length Lanvin gown.

Canne, 2012

Ines de la Fressange wears a one-shouldered white Lanvin gown.

Paris, A/W 2012/3

A model presents a creation by Alber Elbaz for Lanvin.