Has Lena Dunham dumped her sleb BFF Taylor Swift in favour of Alec Baldwin? And we thought David Gandy and Harry Styles made an odd friendship...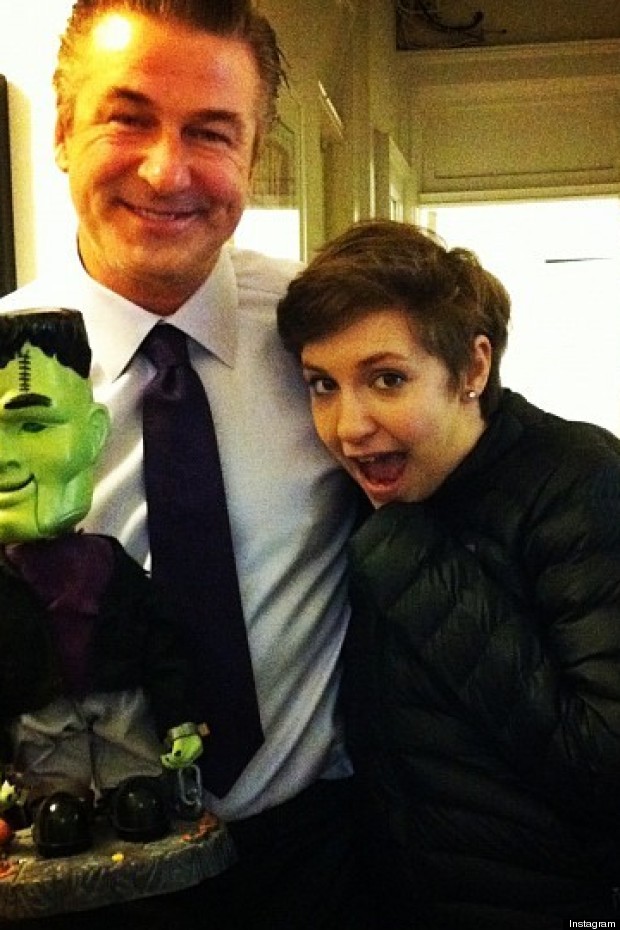 Creator and star of the hit HBO series Girls has given Team MyDaily yet another reason to justify our borderline inappropriate obsession with her. Lena shared this legendary pic of her, Alex Baldwin (best known at MyDaily HQ for his cameo role as Phoebe's fling, Parker in Friends) and a Frankenstein doll with her Instagram followers on Friday.
We're not sure about you, but this happy snap's got us wondering which other slebs are showbiz BBFs. Off the top of our heads we can name P Diddy and Ashton Kutcher (so weird), Will Smith and Tom Cruise (even weirder) and Florence Welch and Blake Lively (almost unbelievable) but trust us, there's more. Take a look at the gallery below for your celebrity best friend fix.
Loading Slideshow
Celebrity Best Friends

<strong>Naomi Campbell and Kate Moss</strong> The two supermodels may represented different model eras, but their friendship - like their looks - has withstood the test of time - they've known each other since they were teens. Naomi has said: "I'm so lucky to have friends like Kate, who are there for me whatever. Even if we're not on the same continent, we support each other. That's what best friends do."

Celebrity Best Friends

<strong>Agyness Deyn and Henry Holland</strong> The fashionable duo have been pals for 15 years, having met in a chippie - where Agy worked - in Lancashire aged 13. They moved to London together and even lived together for a few years before they became famous.

Celebrity Best Friends

<strong>Brad Pitt and George Clooney</strong> One of the best-looking friendships in Hollywood, the two stars have rubbed elbows on-screen in the Oceans franchise, hung out at Clooney's home in Como, started a Darfur charity together and even motorcycled side by side. They're also the kind of buddies who like to play around: in an interview, Brad joked that he and Angelina Jolie wouldn't marry until "George can legally marry [a man.]"

Celebrity Best Friends

<strong>Stella McCartney, Kate Hudson and Liv Tyler</strong> Kate and Liv became friends when they met at Crossroads School in Santa Monica in the 1990s, and we imagine they had loads to talk about (like famous parents and rocker crushes). Liv and Stella have the rock royalty dads in common, and when Liv introduced Stella to Kate the pair hit it off as well, and Kate is frequently spotted in McCartney's designs.

Celebrity Best Friends

<strong>Daisy Lowe and Alexa Chung</strong> These bright young fashion plates make an attractive pair, whether they're out on the town together or sitting front row at London Fashion Week.

Celebrity Best Friends

<strong>Gwyneth Paltrow and Madonna</strong> Gwyneth once referred to BFF Madonna as like "an older sister," but their friendship cooled in 2010, after Madonna's divorce to Guy Ritchie. Some suggest the reason for the "breakup" is that they had less in common afterwards, while other sources speculate it had to do with a falling out involving trainer Tracy Anderson.

Celebrity Best Friends

<strong>Elizabeth Hurley and Elton John </strong> These two celebrity BFFs are so tight, Elton gave Liz away at her 2007 wedding to Arun Nayar.

Celebrity Best Friends

<strong>Nicole Richie and Paris Hilton</strong> The two BFFS-since-the-age-of-two let the world in on their friendship when they starred in The Simple Life together, but hit a rocky patch in 2005. They've since reconciled but Paris didn't make the final guest list for Nicole's wedding to Joel Madden in 2010.

Celebrity Best Friends

<strong>Rihanna and Katy Perry</strong> The two musical divas have relied on each other through good times (RiRi threw Katy a Vegas hen do in 2010) and bad (she was also the shoulder to cry on when Katy divorced from Russell Brand 14 months later). RiRi told Access Hollywood: "Whenever we're in the same city, we try to do something -- whether it's seeing each other for five minutes for a hug [or] whether it's partying all night at some random after party for an award show. We try to hang out as much as we can, which is very rarely because we're so busy."

Celebrity Best Friends

<strong>Eva Longoria, Victoria Beckham and Kate Beckinsale</strong> Since VB moved to L.A., she's become one-third of a trio of famous brunette pals which includes Eva Longoria and Kate Beckinsale. Kate calls Eva: "...A fantastic girl's girl. If your car broke down at 4 in the morning, she's the friend who would come to your rescue." And she's already setting up her daughter Lily with one of Victoria's sons: "...If she did have to have a boyfriend, then I suppose Brooklyn would get my seal of approval." The three are often seen partying together in L.A.

Celebrity Best Friends

<strong>Dominic Cooper and James Corden</strong> The History Boys co-stars - who have been pals since starring in the play together in 2004 - are often seen together on the town, usually laughing. Cooper reportedly bought a house on the same London block as Corden's, lived with him for a while and introduced Corden to his fiancée, Julia Carey.

Celebrity Best Friends

<strong>Jaime Winstone and Lily Allen</strong> These two celebrity girlfriends know what it's like to grow up with a famous dad - and then get famous themselves. They also have Lily's brother, Alfie, in common - Jaime dated him for three years until they broke up in 2010.

Celebrity Best Friends

<strong>Sienna Miller and Keira Knightley</strong> The Edge of Love co-stars really bonded after filming together (sharing a bath can do that for you), and the two can really on each other through thick and thin - they've been each other's shoulders to cry on after bad breakups and also single-girl wingmen for a night on the town.

Celebrity Best Friends

<strong>Naomi Watts and Nicole Kidman</strong> The two Aussie gals have been pals since their teenage days trying to land their big breaks in Australia, and have bonded over motherhood as well as their profession and homeland. Kidman told the Telegraph: "Naomi Watts and I are very, very good friends and have maintained that through so many things. I think that's really rare, particularly for actresses, and I take a lot of pride in that."

Celebrity Best Friends

<strong>Sean "Diddy" Combs and Ashton Kutcher</strong> Combs and Kutcher hit it off when they were both filming TV series for MTV, and their friendship has graduated from the early days of clubbing to helping charity and giving business advice. In an article for Time magazine, Combs called Kutcher his "sounding board," and added: "Most of us want to make as much money as we can, but Ashton is out to make the world a better place."

Celebrity Best Friends

<strong>Ashley Tisdale and Vanessa Hudgens</strong> The High School Musical gal pals have a strong friendship in real life, and they've been snapped doing everything together, including grocery shopping, working out and getting inked.

Celebrity Best Friends

<strong>Jennifer Aniston and Courteney Cox</strong> The two actresses have been BFFs since their on-screen roles as besties Rachel Green and Monica Gellar on Friends (they actually became buddies at the audition for the show in 1994). Recent reports in March 2012 suggest that the friendship has been under "strain" since Aniston has gotten cosy with Justin Theroux, but these two have proved their friendship can withstand the test of time and romantic heartbreak.

Celebrity Best Friends

<strong>Ben Affleck and Matt Damon</strong> These two best buds were neighbours living two blocks away from each other in Cambridge, Massachusettts, and met when Damon was 10 and Affleck was eight. They've since won the Oscar for Best Original Screenplay for co-writing Good Will Hunting and discovered that their friendship is indeed thicker than water: according to the New England Genealogical Society, the actors are 10th cousins, once removed.

Celebrity Best Friends

<strong>Will Smith and Tom Cruise</strong> The famous fathers have a serious off-screen bromance that involves attending each other's premieres and hanging out with one another's families. Smith has defended Tom's views on Scientology, while Tom has praised his pal by saying: "We share that same level of reality and commitment that we have to our craft and our family. It's fun. Wherever Will Smith is, that's where the party is!"

Celebrity Best Friends

<strong>Kate Winslet and Rachel Weisz </strong> These English roses have more in common than their choice of profession and motherhood: a love of natural beauty. Along with Emma Thompson, in 2011 they formed the "British Anti-Cosmetic Surgery League," and have spoken out about embracing the ageing process and not Hollywood's frozen, Botoxed look.

Celebrity Best Friends

<strong>Jessica Biel and Jennifer Garner</strong> The two stars bonded on the set of ensemble film Valentine's Day, and the gal pals have only the kindest words to say about one another. Biel gushed to Marie Claire that she was "in awe" of Jen, while Garner told Vogue that Jessica is "incredibly girly and warm and open."

Celebrity Best Friends

<strong>Kristen Stewart and Dakota Fanning</strong> The two actresses have had plenty of on - and off-screen - time to solidify their friendship as co-stars in the Twilight franchise and The Runaways, where they played rockers Joan Jett and Cherie Curie. Of their friendship, Fanning has said: "We're really close. I think it's really great working with your friends, and to be completely open with someone and to have no defence mechanism, you know what I mean?"

Celebrity Best Friends

<strong>Victoria Beckham and Katie Holmes</strong> Katie and Posh became besties when Victoria moved to L.A., and soon the clean-cut Holmes was rocking a racier shaggy bob hairdo and had upped the fashion factor with her clothes, undoubtedly under the tutelage of Victoria. Although media outlets reported their friendship had soured by 2010, in the December 2011 issue of Elle, Holmes opened up about getting fashion tips from her designer friend. "We go to the same events, and we'll call each other and ask, 'What colour are you wearing?' I'm always interested in what [Victoria] is liking for the season."

Celebrity Best Friends

Salma Hayek and Penelope Cruz The gorgeous brunettes often hit the red carpet together, and since they're both mothers, we're sure they've even bonded over baby wipes. After Penelope gave birth to son Leo in January 2010, Salma said: "Penelope is a motherly creature, a warrior by nature. I told her that little boy is the luckiest boy in the world."

Celebrity Best Friends

<strong>Tina Fey and Amy Poehler</strong> The friendship between these two funny gals has gone from strength to strength over the years, as they bonded in improv group Second City, as co-stars on Saturday Night Live, in films like Mean Girls and Baby Mama, and as mothers. Poehler has joked that when she met Fey, she "finally found the woman I want to marry."

Celebrity Best Friends

<strong>Drew Barrymore and Cameron Diaz</strong> The Charlie's Angels co-stars have be BFFs since they were blondes, then brunettes, then blondes again. According to Drew: "She's my sister, but we bro out and have crazy adventures. I always know that she's game. Most people don't know this, but she's very edgy."

Celebrity Best Friends

<strong>Beyoncé and Gwyneth Paltrow</strong> These two pals have nothing but the best to say about each other. Paltrow called her BFF "the most talented human being on the planet," while Beyoncé told Harper's Bazaar UK that Gwyneth is: "... what I strive to be one day. You go to her house and she makes you feel like you never want to go home."

Celebrity Best Friends

<strong>Chace Crawford and Ed Westwick</strong> The on-screen Gossip Girl pals are best buddies in real-life, and in a case of art imitating life, lived together before their characters Nate and Chuck did.

Celebrity Best Friends

<strong>Florence Welch and Blake Lively</strong> The two girlfriends both love Chanel, and Florence's music. Devoted fan Blake has been to every show Florence and the Machine have done in the U.S. and even hooked her red-headed pal up with a guest spot on her show, Gossip Girl.

Celebrity Best Friends

<strong>Demi Lovato and Selena Gomez</strong> The two Disney buds have been best friends since the tender age of seven. Demi's stint in rehab has only strengthened the bond between the two, and Selena has said of her friend: "You have courage - courage to want to change to be better for yourself. The amount of respect that I have for you is indescribable."

Celebrity Best Friends

<strong>Emma Stone and Taylor Swift</strong> The two besties met at an awards show and never looked back. Their friendship even extends to the kitchen: "I cook and Emma bakes," Taylor has said. "Those are our specialties. We just talk about our lives. That's how I feel when I'm with friends that I've had for years. Those are the people that I can just rant to. These are the people who know me the best."

Celebrity Best Friends

<strong>Ryan Reynolds and Sandra Bullock</strong> The duo have been pals for over a decade, and despite rumours in 2011 that they were romantically involved and even having a baby together, both actors have always insisted they are "just friends."

Celebrity Best Friends

<strong>Tobey Maguire and Leonardo DiCaprio</strong> The two actors met in 1990 on an audition for the show Parenthood, and have remained chummy ever since. They're co-starring together in 2012's The Great Gatsby.