Let's hear it for Andrej Pejic who is the first ever cross-dressing male model to cover Elle magazine. The Serbian born model has made some serious fashion statements and consequently racked up a number of high profile shoots, namely for Jean Paul Gaultier.
The January issue of Serbian Elle breaks the boundaries of gender and celebrates fashion at its most fabulous, Pejic dons an enviable array of Jean Paul Gaultier and makes a crimped bob do look effortless. Take a look, what we thinking? Yep, we're sure to be channeling that androgynous look again in 2013. Seriously, those cheekbones...we wish!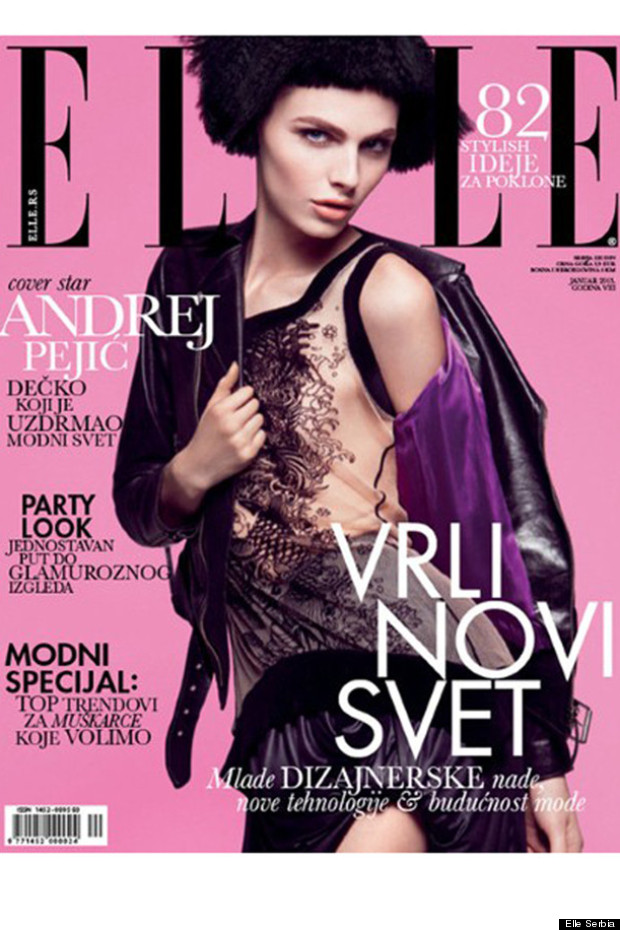 Whilst we're talking JPG we thought we'd take a look back at that memorable Spring/Summer 2013 collection. Will you be going fashion-forward in these looks for the new year?
Loading Slideshow
Jean-Paul Gaultier: Runway - Paris Fashion Week Womenswear Spring / Summer 2013

PARIS, FRANCE - SEPTEMBER 29: A model walks the runway during the Jean-Paul Gaultier Spring / Summer 2013 show as part of Paris Fashion Week on September 29, 2012 in Paris, France. (Photo by Pascal Le Segretain/Getty Images)

FASHION-FRANCE-GAULTIER

A model presents a creation by Jean Paul Gaultier during the Spring/Summer 2013 ready-to-wear collection show on September 29, 2012 in Paris. AFP PHOTO/PIERRE VERDY (Photo credit should read PIERRE VERDY/AFP/GettyImages)

FASHION-FRANCE-GAULTIER

A model presents a creation by Jean Paul Gaultier during the Spring/Summer 2013 ready-to-wear collection show on September 29, 2012 in Paris. AFP PHOTO/PIERRE VERDY (Photo credit should read PIERRE VERDY/AFP/GettyImages)

Jean-Paul Gaultier: Runway - Paris Fashion Week Womenswear Spring / Summer 2013

PARIS, FRANCE - SEPTEMBER 29: A model walks the runway during the Jean-Paul Gaultier Spring / Summer 2013 show as part of Paris Fashion Week on September 29, 2012 in Paris, France. (Photo by Pascal Le Segretain/Getty Images)

FASHION-FRANCE-GAULTIER

A model presents a creation by Jean Paul Gaultier during the Spring/Summer 2013 ready-to-wear collection show on September 29, 2012 in Paris. AFP PHOTO/PIERRE VERDY (Photo credit should read PIERRE VERDY/AFP/GettyImages)

FASHION-FRANCE-GAULTIER

A model presents a creation by Jean Paul Gaultier during the Spring/Summer 2013 ready-to-wear collection show on September 29, 2012 in Paris. AFP PHOTO/PIERRE VERDY (Photo credit should read PIERRE VERDY/AFP/GettyImages)

FASHION-FRANCE-GAULTIER

A model presents a creation by Jean Paul Gaultier during the Spring/Summer 2013 ready-to-wear collection show on September 29, 2012 in Paris. AFP PHOTO/PIERRE VERDY (Photo credit should read PIERRE VERDY/AFP/GettyImages)

Jean-Paul Gaultier: Runway - Paris Fashion Week Womenswear Spring / Summer 2013

PARIS, FRANCE - SEPTEMBER 29: A model walks the runway during the Jean-Paul Gaultier Spring / Summer 2013 show as part of Paris Fashion Week on September 29, 2012 in Paris, France. (Photo by Pascal Le Segretain/Getty Images)

Jean-Paul Gaultier: Runway - Paris Fashion Week Womenswear Spring / Summer 2013

PARIS, FRANCE - SEPTEMBER 29: A model walks the runway during the Jean-Paul Gaultier Spring / Summer 2013 show as part of Paris Fashion Week on September 29, 2012 in Paris, France. (Photo by Pascal Le Segretain/Getty Images)

Jean-Paul Gaultier: Runway - Paris Fashion Week Womenswear Spring / Summer 2013

PARIS, FRANCE - SEPTEMBER 29: A model walks the runway during the Jean-Paul Gaultier Spring / Summer 2013 show as part of Paris Fashion Week on September 29, 2012 in Paris, France. (Photo by Pascal Le Segretain/Getty Images)

FASHION-FRANCE-GAULTIER

A model presents a creation by Jean Paul Gaultier during the Spring/Summer 2013 ready-to-wear collection show on September 29, 2012 in Paris. AFP PHOTO/PIERRE VERDY (Photo credit should read PIERRE VERDY/AFP/GettyImages)

FASHION-FRANCE-GAULTIER

A model presents a creation by Jean Paul Gaultier during the Spring/Summer 2013 ready-to-wear collection show on September 29, 2012 in Paris. AFP PHOTO/PIERRE VERDY (Photo credit should read PIERRE VERDY/AFP/GettyImages)

Jean-Paul Gaultier: Runway - Paris Fashion Week Womenswear Spring / Summer 2013

PARIS, FRANCE - SEPTEMBER 29: Model Karlie Kloss walks the runway during the Jean-Paul Gaultier Spring / Summer 2013 show as part of Paris Fashion Week on September 29, 2012 in Paris, France. (Photo by Pascal Le Segretain/Getty Images)

Jean-Paul Gaultier: Runway - Paris Fashion Week Womenswear Spring / Summer 2013

PARIS, FRANCE - SEPTEMBER 29: Model Karlie Kloss walks the runway during the Jean-Paul Gaultier Spring / Summer 2013 show as part of Paris Fashion Week on September 29, 2012 in Paris, France. (Photo by Pascal Le Segretain/Getty Images)

FASHION-FRANCE-GAULTIER

A model presents a creation by Jean Paul Gaultier during the Spring/Summer 2013 ready-to-wear collection show on September 29, 2012 in Paris. AFP PHOTO/PIERRE VERDY (Photo credit should read PIERRE VERDY/AFP/GettyImages)

FASHION-FRANCE-GAULTIER

A model presents a creation by Jean Paul Gaultier during the Spring/Summer 2013 ready-to-wear collection show on September 29, 2012 in Paris. AFP PHOTO/PIERRE VERDY (Photo credit should read PIERRE VERDY/AFP/GettyImages)

FASHION-FRANCE-GAULTIER

A model presents a creation by Jean Paul Gaultier during the Spring/Summer 2013 ready-to-wear collection show on September 29, 2012 in Paris. AFP PHOTO/PIERRE VERDY (Photo credit should read PIERRE VERDY/AFP/GettyImages)

FASHION-FRANCE-GAULTIER

A model presents a creation by Jean Paul Gaultier during the Spring/Summer 2013 ready-to-wear collection show on September 29, 2012 in Paris. AFP PHOTO/PIERRE VERDY (Photo credit should read PIERRE VERDY/AFP/GettyImages)

FASHION-FRANCE-GAULTIER

A model presents a creation by Jean Paul Gaultier during the Spring/Summer 2013 ready-to-wear collection show on September 29, 2012 in Paris. AFP PHOTO/PIERRE VERDY (Photo credit should read PIERRE VERDY/AFP/GettyImages)

FASHION-FRANCE-GAULTIER

French artist Amanda Lear presents a creation by Jean Paul Gaultier during the Spring/Summer 2013 ready-to-wear collection show on September 29, 2012 in Paris. AFP PHOTO/PIERRE VERDY (Photo credit should read PIERRE VERDY/AFP/GettyImages)

FASHION-FRANCE-GAULTIER

French artist Amanda Lear stands next to a model as she presents a creation by Jean Paul Gaultier during the Spring/Summer 2013 ready-to-wear collection show on September 29, 2012 in Paris. AFP PHOTO/PIERRE VERDY (Photo credit should read PIERRE VERDY/AFP/GettyImages)

FASHION-FRANCE-GAULTIER

Dancers perform during the Jean Paul Gaultier Spring/Summer 2013 ready-to-wear collection show on September 29, 2012 in Paris. AFP PHOTO/PIERRE VERDY (Photo credit should read PIERRE VERDY/AFP/GettyImages)

Jean-Paul Gaultier: Runway - Paris Fashion Week Womenswear Spring / Summer 2013

PARIS, FRANCE - SEPTEMBER 29: A dancer on the runway during the Jean-Paul Gaultier Spring / Summer 2013 show as part of Paris Fashion Week on September 29, 2012 in Paris, France. (Photo by Pascal Le Segretain/Getty Images)

FASHION-FRANCE-GAULTIER

Dancers perform during the Jean Paul Gaultier Spring/Summer 2013 ready-to-wear collection show on September 29, 2012 in Paris. AFP PHOTO/PIERRE VERDY (Photo credit should read PIERRE VERDY/AFP/GettyImages)