Myleene Klass is seeing in the New Year in style as the face of the New Year's Eve National Lottery. The musician and TV personality glammed up in gold for a glittering photo shoot to promote the BBC special.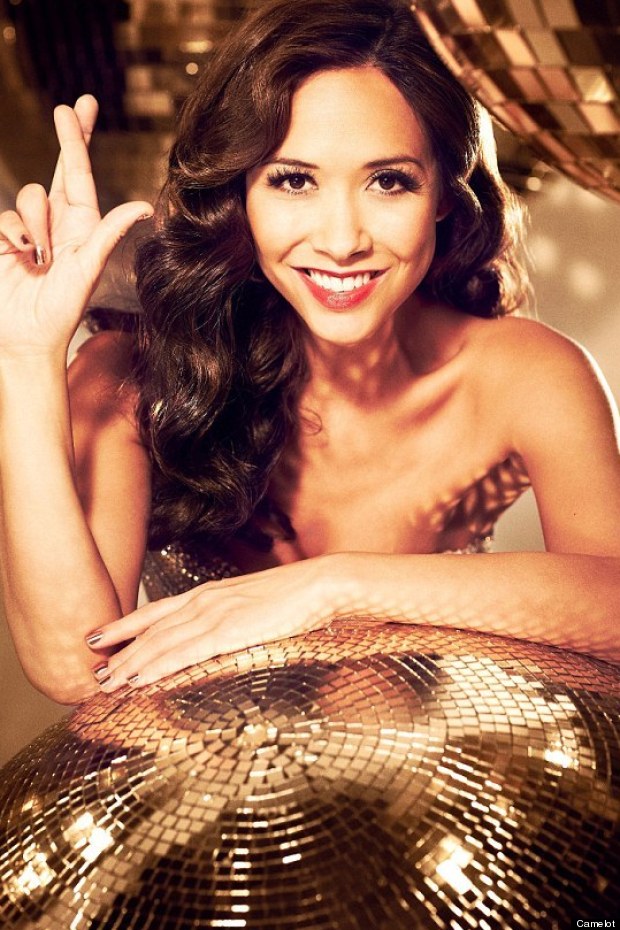 In Myleene's case it seems that if it glitters it must be gold. From her frock right down to her nails, the hot-mama looks drop-dead gorge in these shots, even if she does resemble an Academy Awards statue...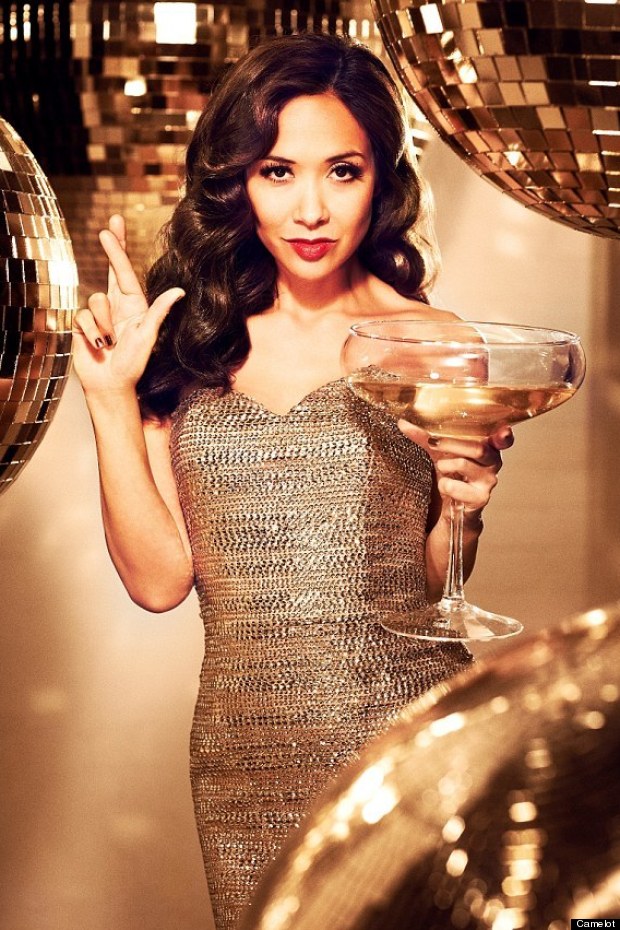 Posing with a Strictly Come Dancing-style glitter ball as well as a ma-hussive champagne glass, we reckon Myleene is ready and raring to ring in the New Year and wave goodbye to 2012... Now, where's our glass of bubbly?
Take style tips from Ms Klass and get your hands on the perfect party-ready frock...

Loading Slideshow
Shop Party Dresses: 30 To Wow You With This Season

Full skirted tweed dress with contrast coated fabric raglan sleeves and piped seam detail, <a href="http://www.karenmillen.com/full-skirted-tweed-dress/dresses/karenmillen/fcp-product/102DP07440"><strong>Karen Millen, £190.</strong></a>

Shop Party Dresses: 30 To Wow You With This Season

Stunning sparkling dress, <a href="http://www.newlook.com/"target="_hplink"><strong>New Look, was £59.99 now £30.</strong></a>

Shop Party Dresses: 30 To Wow You With This Season

Dress, <a href="http://www.hm.com/gb/product/06531?article=06531-C"><strong>H&M, £39.99.</strong></a>

Shop Party Dresses: 30 To Wow You With This Season

Kudalin sequined chiffon dress by Malene Birger, <a href="http://www.net-a-porter.com/product/325853"><strong>Net-a-Porter, £435.</strong></a>

Shop Party Dresses: 30 To Wow You With This Season

Leather painted dress, <a href="http://www.topshop.com/webapp/wcs/stores/servlet/ProductDisplay?beginIndex=1&viewAllFlag=&catalogId=33057&storeId=12556&productId=7591069&langId=-1&sort_field=Relevance&categoryId=208523&parent_categoryId=203984&pageSize=20"><strong>Topshop, £125.</strong></a>

Shop Party Dresses: 30 To Wow You With This Season

Metallic strapless midi dress with pleated skirt, <a href="http://www.karenmillen.com/strapless-fluid-pleat-dress/dresses/karenmillen/fcp-product/102DP30638"><strong>Karen Millen, £210. </strong></a>

Shop Party Dresses: 30 To Wow You With This Season

Pleated maxi dress, <strong><a href="http://www.tedbaker.com/women%27s/women%27s_clothing/dresses/list.aspx#-&styCode=94658&colRef=80-DARK%20ORANGE&path=/women's/women's clothing/dresses/">Ted Baker, £199.</a></strong>

Shop Party Dresses: 30 To Wow You With This Season

Gold metallic dress, <a href="http://www.topshop.com/webapp/wcs/stores/servlet/ProductDisplay?beginIndex=1&viewAllFlag=&catalogId=33057&storeId=12556&productId=7938859&langId=-1&sort_field=Relevance&categoryId=208523&parent_categoryId=203984&pageSize=20"><strong>Topshop, £60.</strong></a>

Shop Party Dresses: 30 To Wow You With This Season

Printed full skirt dress, <a href="http://www.tedbaker.com/women%27s/women%27s_clothing/dresses/list.aspx#-&styCode=102273&colRef=57-NUDE%20PINK&path=/women's/women's clothing/dresses/"><strong>Ted Baker, £199.</strong></a>

Shop Party Dresses: 30 To Wow You With This Season

Fringe dress, <a href="http://www.topshop.com/webapp/wcs/stores/servlet/ProductDisplay?beginIndex=21&viewAllFlag=&catalogId=33057&storeId=12556&productId=7940224&langId=-1&sort_field=Relevance&categoryId=208523&parent_categoryId=203984&pageSize=20"><strong>Topshop, £60.</strong></a>

Shop Party Dresses: 30 To Wow You With This Season

Dress, <a href="http://www.hm.com/gb/product/06918?article=06918-A"><strong>H&M, £29.99. </strong></a>

Shop Party Dresses: 30 To Wow You With This Season

Dress,<a href="http://www.topshop.com/webapp/wcs/stores/servlet/ProductDisplay?beginIndex=1&viewAllFlag=&catalogId=33057&storeId=12556&productId=8130393&langId=-1&sort_field=Relevance&categoryId=208523&parent_categoryId=203984&pageSize=20"><strong> Topshop, £26.</strong></a>

Shop Party Dresses: 30 To Wow You With This Season

Long sleeve sleeve soft georgette dress with a sunray pleated skirt and placed lace print design, <a href="http://www.karenmillen.com/lace-print-pleated-dress/dresses/karenmillen/fcp-product/102DP27860"><strong>Karen Millen, £175.</strong></a>

Shop Party Dresses: 30 To Wow You With This Season

Cream print long sleeve tube dress with black side panels and waist detail, <a href="http://www.riverisland.com/women/dresses/bodycon-dresses/Cream-print-long-sleeve-tube-dress-628756"><strong>River Island, £35.</strong></a>

Shop Party Dresses: 30 To Wow You With This Season

Lace ball dress, <a href="http://www.tedbaker.com/women%27s/women%27s_clothing/dresses/list.aspx#-&styCode=100057&colRef=57-NUDE%20PINK&path=/women's/women's clothing/dresses/"><strong>Ted Baker, £399.</strong></a>

seqbofd

Dress, <a href="http://www.hm.com/gb/product/05773?article=05773-A"><strong>H&M, £29.99.</strong></a>

Shop Party Dresses: 30 To Wow You With This Season

lace dress, <a href="http://www.topshop.com/webapp/wcs/stores/servlet/ProductDisplay?beginIndex=21&viewAllFlag=&catalogId=33057&storeId=12556&productId=7939853&langId=-1&sort_field=Relevance&categoryId=208523&parent_categoryId=203984&pageSize=20"><strong>Topshop, £36.</strong></a>

Shop Party Dresses: 30 To Wow You With This Season

Dress, <a href="http://www.hm.com/gb/product/05919?article=05919-B"><strong>H&M, £29.99.</strong></a>

Shop Party Dresses: 30 To Wow You With This Season

Geometric jacquard panelled ponte roma belted shirt dress, <a href="http://www.karenmillen.com/geometric-dress/dresses/karenmillen/fcp-product/103DP22502"><strong>Karen Millen, £175.</strong></a>

Shop Party Dresses: 30 To Wow You With This Season

Jewel printed dress, <a href="http://www.riverisland.com/women/dresses/bodycon-dresses/Black-jewel-print-bodycon-dress-628849"><strong>River Island, £35.</strong></a>

Shop Party Dresses: 30 To Wow You With This Season

Black sequin dress by DKNY, <a href="http://www.stylebop.com/uk/product_details.php?menu1=clothing&menu2=5&id=385341"><strong>StyleBop, £159.</strong></a>

Shop Party Dresses: 30 To Wow You With This Season

Black dress by Catherine Malandrino, <a href="http://www.stylebop.com/uk/product_details.php?menu1=clothing&menu2=5&id=376521"><strong>StyleBop, £312.</strong></a>

Shop Party Dresses: 30 To Wow You With This Season

Dress, <a href="http://www.hm.com/gb/product/07111?article=07111-B"><strong>H&M, £12.99.</strong></a>

Shop Party Dresses: 30 To Wow You With This Season

One-shoulder ruffled stretch-jersey dress by Valentino, <a href="http://www.theoutnet.com/product/182747?cm_mmc=LinkshareUK-_-0RpXOIXA500-_-Custom-_-LinkBuilder&siteID=0RpXOIXA500-cqfKNSToC5k7YBux6vWaEg"><strong>The Outnet, £469.</strong></a>

Shop Party Dresses: 30 To Wow You With This Season

Dress, <a href="http://www.hm.com/gb/product/02293?article=02293-A"><strong>H&M, £12.99.</strong></a>

Shop Party Dresses: 30 To Wow You With This Season

Black layered net sleeveless dress by Marios Schab, <a href="http://www.farfetch.com/shopping/women/marios-schwab-embroidered-dress-item-10266788.aspx"><strong>Farfetch, £1935.</strong></a>

Shop Party Dresses: 30 To Wow You With This Season

Fuchsia long sleeve wool dress with bows by Valentino, <a href="http://www.stylebop.com/uk/product_details.php?menu1=clothing&menu2=5&id=390181"><strong>StyleBop, £1273.</strong></a>

Shop Party Dresses: 30 To Wow You With This Season

Black beaded dress by DKNY, <strong><a href="http://www.stylebop.com/uk/product_details.php?menu1=clothing&menu2=5&id=383251">StyleBop, £ 312.</a></strong>

Shop Party Dresses: 30 To Wow You With This Season

Leather-look grey midi dress, <a href="http://www.riverisland.com/women/dresses/bodycon-dresses/Grey-colour-block-bodycon-dress-628302"><strong>River Island, £40.</strong></a>

Shop Party Dresses: 30 To Wow You With This Season

Sleeveless shift dress, <a href="http://www.kookai.co.uk/collection-1/dresses-1/crochet-insert-dress-17068.html"><strong>Kookai, £38.</strong></a>

Shop Party Dresses: 30 To Wow You With This Season

Spot jacquard dress, <a href="http://www.tedbaker.com/women%27s/women%27s_clothing/dresses/list.aspx#-&styCode=100059&colRef=00-BLACK&path=/women's/women's clothing/dresses/"><strong>Ted Baker, £149.</strong></a>