Bar Refaeli sent this slightly cryptic tweet earlier this week:
Tonight #milliondollatshootingstar goes to Greenland!! 11:15pm on SAT1 instagr.am/p/Ta0vJ7MUWi/

— Bar Refaeli (@BarRefaeli) December 19, 2012
Thankfully, it started to make a bit more sense once we opened up the photo: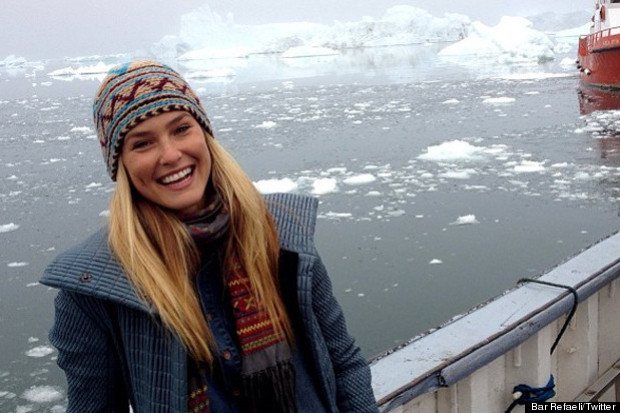 To summarise, Refaeli was hanging out on a boat in Greenland and posted this picture via Instagram. Despite the freezing cold temperature, Bar managed to look cute, cosy, happy and as beautiful as ever, with little to no makeup on. We're not that jealous of the location, but we don't know many people who look this chic in a wooly hat.
Let us know how you rate Bar's latest look and shop the best of this season's accessories below:
Loading Slideshow
14 Winter Wonderland Goodies You Can't Be Without

Patchwork mittens, <a href="http://www.oliverbonas.com/accessories/gloves_patchwork_mitten_cormix.htm"><strong>Oliver Bonas, £14.</strong></a>

14 Winter Wonderland Goodies You Can't Be Without

Textured grunge snood, <a href="http://www.topshop.com/webapp/wcs/stores/servlet/ProductDisplay?beginIndex=1&viewAllFlag=&catalogId=33057&storeId=12556&productId=7471878&langId=-1&sort_field=Relevance&categoryId=208552&parent_categoryId=204484&pageSize=20&siteID=0RpXOIXA500-fcQW7QSihCOqJ64AU5zBwg&cmpid=ukls_deeplink&_$ja=tsid:19906|prd:0RpXOIXA500"><strong>Topshop, £16.</strong></a>

14 Winter Wonderland Goodies You Can't Be Without

Bold floral jacquard scarf, <a href="http://www.matalan.co.uk/fcp/product/fashion-to-buy-online/Hats,-Scarves-&-Gloves/Bold-Floral-Jacquard-Scarf/65087&resultsPerPage=100&attrList=Dept,brand?cmpid=9&utm_source=Affilinet&utm_medium=Affiliates_Carat&utm_campaign=Carat_Affilinet_Affiliates"><strong>Matalan, £6.</strong></a>

14 Winter Wonderland Goodies You Can't Be Without

Parka coat, <a href="http://www.hm.com/gb/product/03395?article=03395-A"><strong>H&M, £39.99.</strong></a>

14 Winter Wonderland Goodies You Can't Be Without

Black leather silver studded gloves, <a href="http://www.newlook.com/shop/womens/accessories/black-leather-silver-studded-gloves_266032901?extcam=AFF_AFW_Editorial+Content_ShopStyle+UK"><strong>New Look, £12.99.</strong></a>

14 Winter Wonderland Goodies You Can't Be Without

Chestnut vintage classic tall bomber by UGG, <a href="http://www.stylebop.com/uk/product_details.php?id=213821"><strong>StyleBop, £240.</strong></a>

14 Winter Wonderland Goodies You Can't Be Without

Warehouse chevron waist belt, <a href="http://www.asos.com/Warehouse/Warehouse-Chevron-Waist-Belt/Prod/pgeproduct.aspx?iid=2571672&SearchQuery=belt&sh=0&pge=3&pgesize=20&sort=-1&clr=Black"><strong>Asos, £22.</strong></a>

14 Winter Wonderland Goodies You Can't Be Without

Knitted eagle jumper, <a href="http://www.topshop.com/webapp/wcs/stores/servlet/ProductDisplay?beginIndex=1&viewAllFlag=&catalogId=33057&storeId=12556&productId=7603990&langId=-1&sort_field=Relevance&categoryId=208525&parent_categoryId=203984&pageSize=20&siteID=0RpXOIXA500-vr6Wt_qpjmFfKZHHjyErEQ&cmpid=ukls_deeplink&_$ja=tsid:19906|prd:0RpXOIXA500"><strong>Topshop, £55.</strong></a>

14 Winter Wonderland Goodies You Can't Be Without

Austin Tote, <a href="http://www.fossil.co.uk/en_GB/shop/women/categories/handbag_silhouettes/tote/austin_tote-zb5599p.html?parent_category_rn=331138&departmentCategoryId=331097&orderBy=3&beginIndex=0&pageSize=1000&pn=c&cm_vc=331140&imagePath=ZB5599271&cm_mmc=LINKSHARE-_-productfeed-_-Women+%C3%83%C2%82%C3%82%C2%BB+Handbag+Silhouettes+-+Tote-_-ZB5599271&utm_source=Partner&utm_medium=Linkshare_Feed&utm_campaign=Linkshare_Feed&utm_source=Partner&utm_medium=Linkshare&utm_campaign=Affiliate&siteID=0RpXOIXA500-expjpvbyWLbfN7iNfwfHaA"><strong>Fossil, £185.</strong></a>

14 Winter Wonderland Goodies You Can't Be Without

Polly Slipper Socks, <a href="http://www.crewclothing.co.uk/polly-slipper-socks-g15-0632-navy/?utm_source=affiliates&utm_medium=web&utm_campaign=linkshare&siteID=0RpXOIXA500-Q.37THrCWA0vx9FsluNgGg"><strong>Crew Clothing, £8.</strong></a>

14 Winter Wonderland Goodies You Can't Be Without

Yves Salomon fur earmuffs, <a href="http://www.harrods.com/product/fur-earmuffs/yves-salomon/000000000002853659?cat1=new-accessories&cid=LS&siteID=0RpXOIXA500-nuLYSq7Z8K5MOwbaLqngJA#"><strong>Harrods, £34.95.</strong></a>

14 Winter Wonderland Goodies You Can't Be Without

Spot rainboot by Cath Kidston, <a href="http://www.asos.com/Cath-Kidston/Cath-Kidston-Spot-Rainboot/Prod/pgeproduct.aspx?via=rec&iid=2545943"><strong>Asos, £30.</strong></a>

14 Winter Wonderland Goodies You Can't Be Without

Taupe cable knit slippers, <a href="http://www.liberty.co.uk/fcp/product/Liberty/SLEEPWEAR/Taupe-Cable-Knit-Ankle-Slippers/80602?utm_source=affiliates&utm_medium=affiliatemarketing&utm_campaign=Affiliate&awc=3487_1351869481_2db2a66b72fce4533c6b3a419ec518e4"><strong>Liberty, £50.</strong></a>

14 Winter Wonderland Goodies You Can't Be Without

Jacket with fur collar, <a href="http://www.hm.com/gb/product/03394?article=03394-A"><strong>H&M, £29.99.</strong></a>