You know it's Christmas when, clan Kardashian let their annual season's greeting loose on the world. This year the Kardashian-Jenner family have offered up a vision in white for us to feast our eyes upon. No less ridiculous than last year's ice-blue bowtie-infested token, 2012 portrays the ever-growing brood in all their reality telly glory... Minus Kim's current beau Kanye West.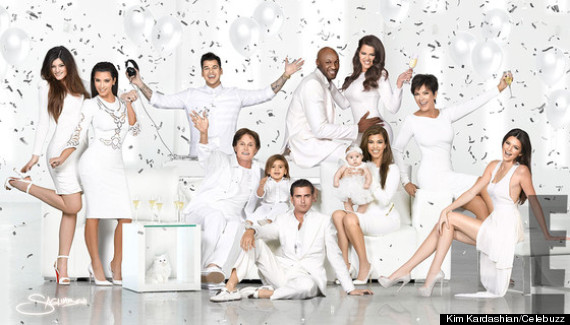 Team MyDaily is wondering why Kanye wasn't involved in the festive fun, his name does begin with a K after all.
So let's get to this, from the left...
1. Kylie, went for the big bouffant Khloe-esque hair do (lion's mane comes to mind) and slipped into a simple long-sleeved body con.
2. Kim teamed slicked back hair with a similar form-fitting dress, and was clearly feeling Kanye's absence as she clung on to half-sister Kylie's hand.
3. Next, and quickly skirting over the fluffy cat trapped in what looks like a mini bar, Rob was apparently playing the angelic DJ (it took us a while to work out why he was holding headphones).
4. Then Bruce Jenner casually lounged on the floor looking like he'd just stepped out of a Duran Duran video, with Kourntey's little boy mason on his lap (cute).
5. Kourtney's hubby, Scott Disick - also looking like some horrendous 1980s loungewear flashback - was the only one who wasn't smiling...
6. Lamar Odom had his hands affectionately placed on wife Khloe's hips while she toasted the festivities with a glass of champagne.

7. A grinning, Kourtney cuddled new baby girl Penelope, who was clearly dressed as the sugar plum fairy.
8. Mum Kris, was obviously having a whale of a time, while Kendall seemed to find the whole shebang totally hilarious.
Done... Phew!
From little angels to Hell's Angels, seaside snaps to gothic opulence the Kardashian family's Christmas card collection is a right cracker. To get you in the mood for a whole season of festive fun, we thought we'd treat you to a little peek at some more of their most ridiculous snapshots... enjoy!
Loading Slideshow
Scary Clause

Aww look at little Kim... looks as though she was a force to be reckoned with, even in those days.

Spot The Difference

We're not entirely sure which Kardashians are pictured here. Care to enlighten us? We reckon it's Kourtney on the left and Kim on the right...

Terrible Trio

Now this is an easy one to decipher. Kim on the left, Khloe in the middle and Kourtney on the right. Easy, now where's our prize?

Strike A Pose

Check out little Kim, she already knew how to strike a pose. Poor little Rob (the only Kardashian boy) he doesn't look best pleased...

Little Bow Peep(s)

Check out that mop of curls on Khloe's head, we're ashamed to say it but a few of us were pictured rockin' a similar style back in the day *cringe*

Matchy Matchy

Here's the Kardashian clan a few years later with Kris' second husband Bruce Jenner and his family.

Beachy Keen

The Kardashian-Jenner family rockin' that white shirt blue jeans look... very questionable indeed.

Just Hangin' Out

Clearly this is just a typical pose the old Kardashian clan like to strike around the house.

Leather Up

There are no words! There <em>really</em> are no words... But we kind of wanna pull on our leather jackets and join them. No, just us?

A Vision In White

Who's that in the Santa suit?

So Mysterious

We reckon they were playing it dark and moody this time around, how <em>very</em> festive.

Wedding Bells

Flash forward to 2009 and Khloe's marriage to professional basketball player Lamar Odom. Hint, he's the one towering above the rest of them...

Royal Red

We guess red and black was their colour scheme for this particular year, but what's the ladder all about?

Deadly Dramatic

Adding a fair few lashings of drama, the Kardashian-Jenners really vamped things up. Even little toddler Mason looks like he's in the mafia.

Last But Not Least

Last year's festive offering from this famous family has left us on the edge of our seats for what fabulously funny arrangement they'll come up with next!