Sequin-Clad Gwen Stefani Stuns On US Vogue Cover
Filed under: Fashion
Last month we saw
Gwen
make a
monochrome statement for the Marie Claire cover
, and now the sequin-clad
Stefani
has got the gold for
US Vogue's
January issue. The photo shoot, by
Annie Leibovitz
, sees the rock chick don Hedi Slimane's
Saint Laurent
bolero complete with a classic pair of black trousers and patent heels. Not without her signature bombshell blonde locks and scarlet-lips, Gwen makes the likes of motherhood, marriage, a mini fashion empire and a global music phenomena look like an easy gig. Seriously, how does she do it?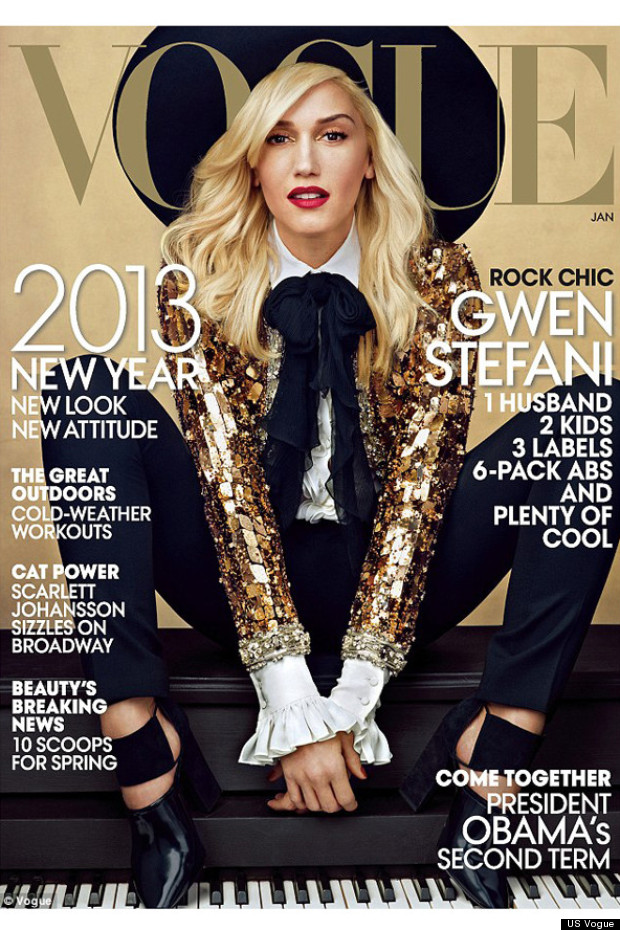 That said, in the interview with
US Vogue
Gwen revealed the stress and struggle of balancing life with her blonde brood (two boys: Kingston, six, and Zuma, four), her solo career, touring, and her relationship with Gavin Rossdale. On their marriage the hot mama said: ''There are just so many rewards that come with it. You have to work at it. But, actually, it's fun to get to this point. Because you learn so much about somebody. It's like these wars that go on and then you kind of get through it to the other side, and it's like, Wow. And obviously, you get stronger." She went on to say, ''... Then having kids takes the whole relationship to another place. It is the ultimate collaboration. Both of us have such strong opinions about how it should be, and it's really fun to do it together''
Sounds to us like she's got it all sussed. No mistaking that this
Hollaback Girl
is all about the family, but she's still hungry for fashion and music fame.
For more from Gwen, get your January issue of
Vogue
on newsstands from 25 December.
Take a look through our gallery below at
Gwen's
style evolution...