Who? Downton Abbey star Joanne Froggatt
What? The actress attended a press launch for series three of the TV show and perhaps it's because we're used to seeing Froggatt dressed as a maid, but her chic sixties-inspired style well and truly impressed us. The monochrome mini? Tick. Cute shoulder bag? Tick. Bouffant plait? We've never tried it, but it looks good.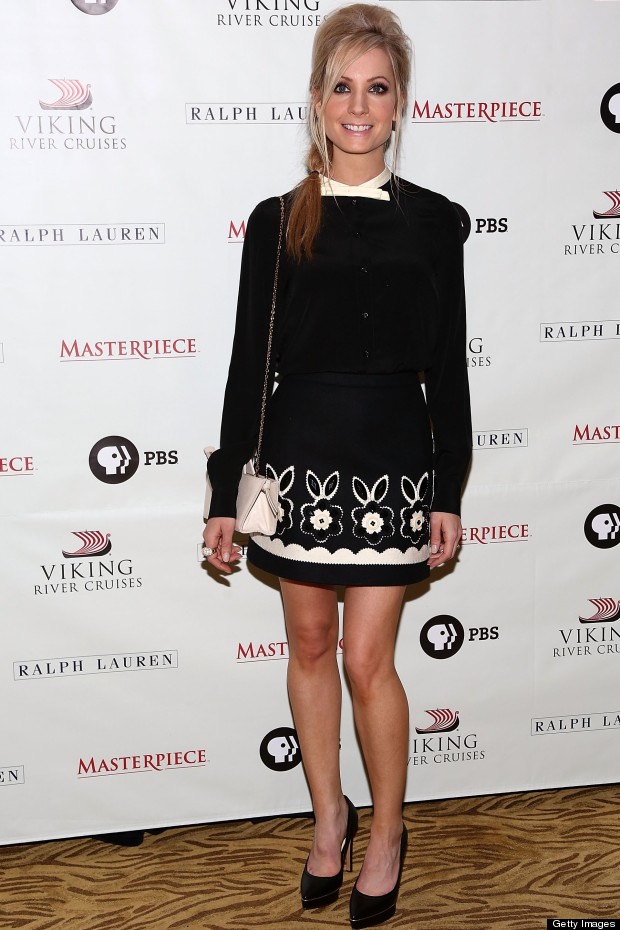 Where? New York, 12 December
Verdict? Top marks to Joanne's not too-glitzy but oh-so-sleek party style. Let us know what you think of her look and see more sixties style below:
Loading Slideshow
Jackie Kennedy, 1960

Mrs. John F. Kennedy smiles talking to newsmen wearing a floral print shift dress.

'Cara Mia', 1960

Bits and bobs of false hair are all the rage in this hairstyle. In this cute example of the trend, a style called "Cara Mia" a bow of false hair contrasts in colour with the dark hair of the model.

Swimwear, 1960

A woman poses on a beach wearing a printed balconette bikini.

Turban Style Hat, 1960

Turban style hat designed by Horrockess, London.

L'Oreal, 1962

L'Oreal of Paris presented their new London showrooms in Berkeley Square house. The three styles being modelled vary in colour (l-r) a soft beige shade 'gazelle', 'coral red' and 'plantine'.

Mods and Rockers, 1964

"Mod" James Brunton wears a suit, tie and pointed boots with slicked hair.

Mary Quant, 1966

Mary Quant receives an OBE for her contribution to fashion. Quant is accredited with creating the mini-skirt.

Carnaby Street, 1966

Customer Jackie Binder wears a new 'convict-style' dress designed by Pauline Fordham.

New York, 1967

Collen Osbourne, Peggy Moffitt and Sonia Pugin modelling the latest fashions in New York.

Twiggy, 1967

British fashion model and 60's icon, Twiggy (Lesley Hornby) modelling a short dark wig.

Coat, 1967

An orange-red woolen coat, by Renato Balestra fashion house of Rome, modeled by Gilda Giuffrida. The coat can be worn over a dress of the same fabric and color, trimmed with buttons of the same fabric at the sleeves and at the hem of the dress fashion Italian coat.

Evening Dresses, 1967

Two dresses, by Cesare Guidi of Florence. Left, a silk evening completely embroidered with multi-colored paillettes, with one short sleeve. Right is a week-end dress in light green with horizontal stripes in darker green shades.

Smock Frock, 1967

A model wearing a paisley patterned A-line mini-dress.

Celia Hammond, 1968

Model Celia Hammond relaxes in a knitted mini dress and chain belt.

Wool Dress, 1968

A model wears a cream crepe wool dress.

60s Mini Dress, 1968

A sixties fashion model wearing a feminine cut pink mini dress.

Amanda Lear, 1968

French fashion model Amanda Lear in a new outfit by British designer Ossie Clark for Alice Pollock's Quorum boutique, 1968. Fabric design is by Celia Birtwell.

Contrasting Legs, 1969

A model wears tights with different colour legs.

Christian Dior, 1969

Shula and Diane model outfits from the Christian Dior 'London' Collection for Autumn.

London, 1969

Two models showcase Italian menswear.

Evening Dress, A/W 1969/70

A blue embellished A line evening dress.

Paris, S/S 1969

Pierre Cardia displayed this at home white silk muslin trousers. It is worn with a matching belt.

Liza Minnelli, 1969

Liza Minnelli, arrives at Heathrow Airport from New York, to appear on the <em>Tom Jones TV Show</em>. She is wearing a floor length coat with fur lining and printed trousers and top.

Swimcaps, 1969

A selection of flowery swimcaps by Kleinet being modelled.

New York, 1969

A young couple display hair styles and fashions of the day while walking on Broadway in New York.

Paris, A/W 1969/70

A model displays a stylish mini-dress in blue-spangle embroidered organdi with boat-neck and long sleeves in white jersey caught in a buttoned cuff.

Ann Summers, 2003

Nancy Sorrell becomes the new face of Ann Summers as she poses for photographers in a sixties style shoot with blonde bob, chain belt and patent white boots.

Lagerfeld, S/S 2004

A model wears a spotty shift dress by German designer Karl Lagerfeld.

40th anniversary of the first Biba shop, 2004

Models (l-r) Kelly Franklin, Melody Blacklock, Emily Davis and Stacy Franklin pose to mark the 40th anniversary of the first Biba shop in Kensington, London. The models are wearing Biba originals at the site of the original store in Abingdon Road. The Brit fashion empire was founded by Barbara Hulanicki in 1964.

Elle Style Awards, 2004

Cat Deeley wearing a colourful psychedelic dress.

Largerfeld, A/W 2005/6

A model displays a pink sixties style creation by German fashion designer Karl Lagerfeld for Chanel.

Nicole Richie, 2012

Nicole Richie talks at Lionel Richie and Friends in Concert show, sporting a beehive and rose-printed yellow dress.

Cosmopolitan Fun Fearless Men And Women Of 2012

Rose Byrne rocking a short brown sixties style bob.