This may very well be one of the strangest things we've seen... Olivia Newton John and John Travolta have reunited especially for Christmas. Wella, wella, tell us more...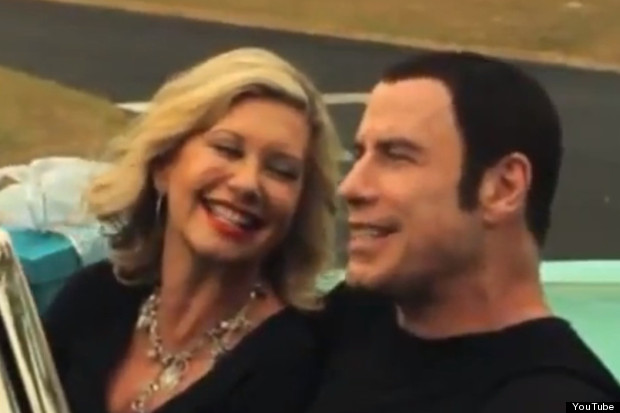 Grease's Danny and Sandy electrified the 70s with their whirlwind romance, and now 34 years on John and Liv have returned to their roles to raise money for charity, but the video for I Think You Might Like It is more Grease Frightenin' than Grease Lightenin'...
The pair are in good company with the likes of Barbra Streisand, Tony Bennett, James Taylor, Kenny G and Cliff Richard featuring on the Christmas album which has been produced to raise money for a range of charities for children and disabled people.
Watch the full video on YouTube.
We desperately want to watch Grease after all that, but we'll have to settle for these 1950s pics instead.
Loading Slideshow
Marlon Brando, 1951

Marlon Brando as Stanley Kowalski in <em>A Streetcar Named Desire</em> wearing his uniform white t-shirt.

Elizabeth Taylor, 1951

Elizabeth Taylor at the premiere of <em>The Lady with the Lamp</em> at the Warner Theater in London. In the Hollywood landscape of new, new, new, what really stands out is that our modern-day starlets still emulate the looks of classic screen beauties, including Elizabeth Taylor, Marilyn Monroe and Rita Hayworth, who ruled the red carpet in the 1950s.

Marilyn Monroe, 1954

Marilyn Monroe poses over the updraft of a New York subway in filming of <em>The Seven Year Itch </em>. Sensual and seductive, but with an air of innocence, Monroe became one of the world's most adored sex symbols.

Evening chic, 1955

Two young ladies in evening wear.

James Dean, 1955

James Dean as Jim Stark in <em>Rebel Without A Cause</em> wearing his signature white t-shirt and jacket.

Day dress, 1955

Model Shirley Worthington wearing a banana cream flannel day dress with taped and buttoned neckline, the unbelted long look is stressed with three buttons through the waist line. From the E R Hill of London Spring Collection.

Dior, 1956

Dior model Jean Dawnay (Princess George Galitzine) posing with champagne and furs.

Teddy Boys, 1957

Pete Murray, Freddie Mills and Josephine Douglas (l-r) in 'teddy boy' clothes for the BBC.

Summer dress, 1957

The model wears a striped and belted summer frock. The skirt has an overpattern of stamped and addressed envelopes.

Sandra Dee, 1957

Waiting for filming to start, 14-year-old Sandra Dee sits at a school desk.

Doris Day, 1957

Fifties icon and actress Doris Day is shown in costume on set.

Brigitte Bardot, 1958

French actress Brigitte Bardot wears a strapless black evening dress with a lace wrap and long lace gloves.

Children's summer fashions, 1958

Linda Leo wears organza dress and Michele Aslanoff wears a red linen dress.

Fay Shott, 1958

Her blond hair flying, 18-year-old Fay Shott spins one of the new plastic Hula Hoops around her waist in Denver.

Summer dress, 1959

The model clasps a delicate corsage close to her summer dress which has a full skirt and short sleeves. The square necked fitted bodice has an embroidered neckline and is set off with short white gloves and a wide headband. A Brilkie production.

Kelly Brook, 2006

Actress Kelly Brook attends British Academy Childrens Film & Television Awards, wearing her hair in a 1950s flat-top style.

Claudia Schiffer, 2007

Claudia Schiffer arrives at Swarovski Fashion Rocks wearing a gold pencil skirt.

M&S, 2007

Model Boyana wears a Marilyn 1950's style dress, from Marks And Spencer's Per Una range.

Diane Krugger, 2008

Actress Diane Krugger attends <em>Pour Elle</em> Paris wearing a white full-circle dress with 3/4 length sleeves.

Debra Messing, 2009

Actress Debra Messing wears a yellow full-circle dress with orange gloves at the 11th annual Costume Designers Guild Awards.

Cannes, 2009

Dita von Teese attends the <em>Inglourious Basterds</em> premiere wearing a full-circle dress.

Scarlett Johansson, 2009

Scarlett Johansson wears a copper pencil skirt with a floral shirt and red lips.

'The Break of Noon' premiere, 2010

Tracee Chimo wears a green, full-circle dress.

Rachel Bilson, 2010

Actress Rachel Bilson attends the opening of the 'American Woman: Fashioning a National Identity' exhibition, wearing a grey and pink full-circle skirt.

Rock and roll weekender, 2011

Father and sons dress up in rock and roll dress. Twice a year fans of Rock and Roll, Rockabilly, Rockin' Blues the 1950s and Americana gather at Seacroft Holiday Camp in Hemsby to dress up in period clothing and re-live the 50's. Every day of the four day 'weekender' a line up of top live bands play the music of the era and devotees hit the dance floor to hop, bop, jive and Rock 'n' Roll.

Rock and roll weekender, 2011

A lady wears cats eye glasses for an annual rock and roll weekender.

Rock and roll weekender, 2011

Women wear fur jackets with their hair pinned up for an annual rock and roll weekender.

Rock and roll weekender, 2011

A lady wears a blue full-circle skirt with a white shirt at an annual rock and roll weekender.

Katy Perry, 2011

Singer Katy Perry wears her pink hair in typical fifties style at the MTV Europe Music Awards.

Pencil Skirt, 2012

The Duchess Of Cambridge wears a blue pencil skirt.

Paris Fashion Week, A/W 2012/3

Model Karlie Kloss wears a grey pencil skirt on the runway during the Elie Saab Ready-To-Wear Fall/Winter 2012 show.