Rihanna's got a new tattoo and obviously, this meant it was time for a new twitpic. The singer shared her new ink with her fans via this poolside photo: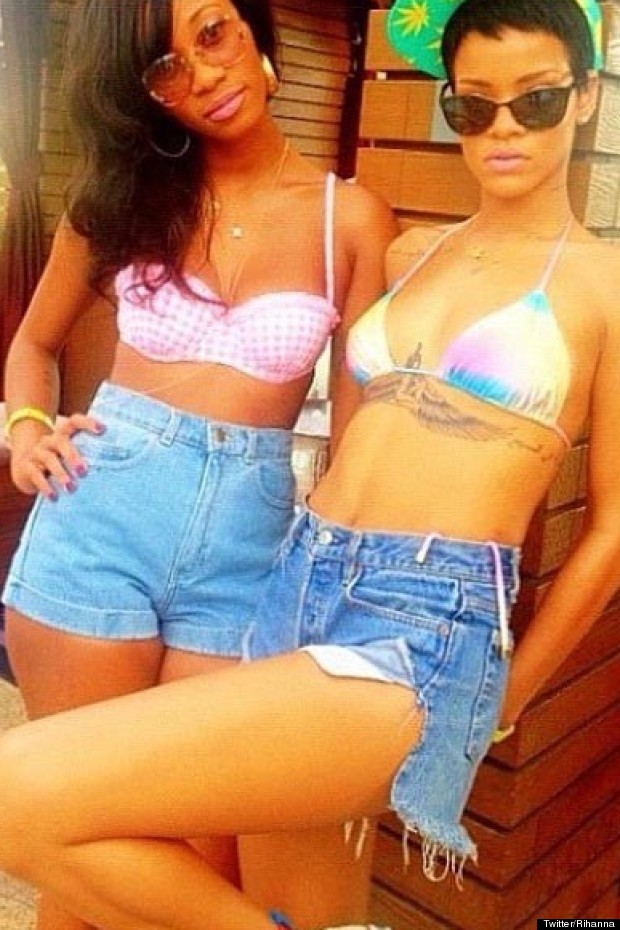 From what we can make out, this latest design features a woman (possibly Rihanna), reclining on angel wings. Lovely.
However, the twitpics that followed were slightly more confusing. The star visited a shooting range and posted these pics with the caption below:
Bad gals do it well! We got our guns in the muthafuckin air instagr.am/p/P1ZKcvhMza/

— Rihanna (@rihanna) September 21, 2012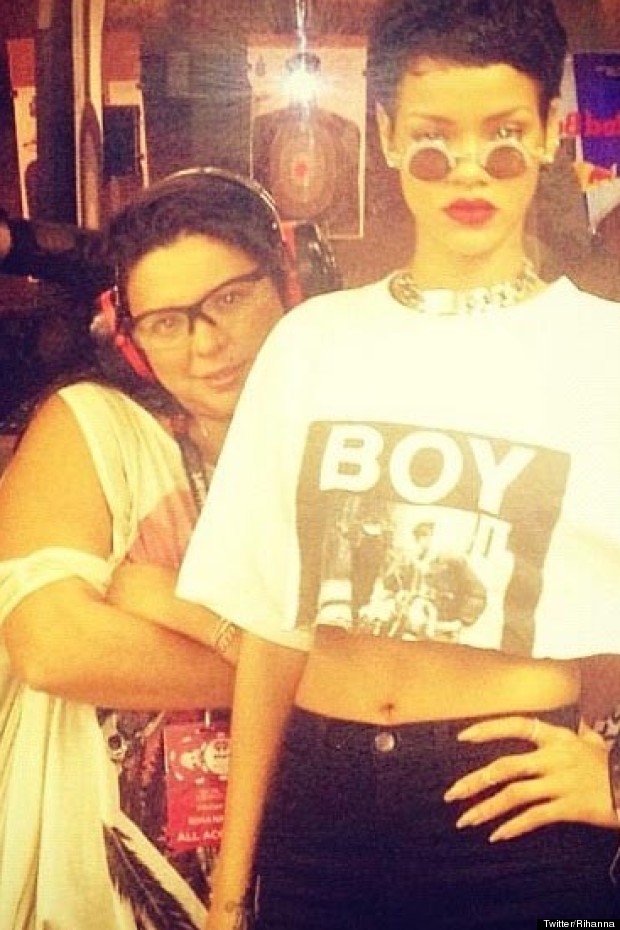 Well, it's nice to keep up to date with what RiRi does in her spare time.
Let us know how you rate her new tattoo and see more celebrity ink in our gallery below:
Loading Slideshow
Celebrity Tattoos

<strong>Sienna Miller</strong> The actress has three stars on her shoulder, another star on her stomach and a swallow on her wrist.

Celebrity Tattoos

<strong>Christina Aguilera</strong> The Voice judge has five tattoos, including her nickname "Xtina" on the nape of her neck and a tattoo on her left arm which reads "Te Amo Sempre" ("I love you always") which was supposed to be surrounded by ex-husband Jordan Bratman's initials in Hebrew, but instead of "JB" reads "12." Oops.

Celebrity Tattoos

<strong>Angelina Jolie</strong> Jolie is known for her love of body art, and has a variety of phrases in multiple languages immortalised on her skin, including "Quod me nutrit me destruit" (a Latin phrase meaning "That which nourishes me, destroys me"), a Buddhist incantation written in Khmer script on her shoulder, the geographical coordinates of her children's' birthplaces, and the phrase "Know your rights" between her shoulder blades.

Celebrity Tattoos

<strong>Cheryl Cole</strong> The singer is an avid tattoo fan with around eight inkings, including barbed wire around her thigh and the words "Mrs. C" on the back of her neck. Her elaborate lower back tattoo reportedly took 11 hours to perfect, and is meant to symbolise a fresh (post-Ashley Cole) start for Cheryl.

Celebrity Tattoos

<strong>Christina Ricci</strong> The actress has multiple tattoos, including a lion's head inspired by Aslan from The Lion, the Witch and the Wardrobe on her shoulder blade and a bouquet of sweet peas on her lower back.

Celebrity Tattoos

<strong>Drew Barrymore</strong> Drew loves her body art, which includes an angel, butterfly, cross and bird. She started sporting a temporary "Breathe" tattoo on her arm in 2010, to remind her to meditate, which she even considered making permanent.

Celebrity Tattoos

<strong>David Beckham</strong> The tattooed footballer has two full sleeves of body ink, as well as a guardian angel covering his back and various other inkings across his body. The names of his sons, Brooklyn, Cruz and Romeo, appear on his neck and back, while the latest addition to the family, baby Harper, is prominently displayed on his left collar bone.

Celebrity Tattoos

<strong>Evan Rachel Wood</strong> Considering the star was engaged to rocker Marilyn Manson, it's no surprise she's a fan of rock star inkings - she's got nine. The pretty cursive script on her neck reads: "All that we see or seem is but a dream within a dream."

Celebrity Tattoos

<strong>Eve</strong> The rapper has a few tattoos, but the most recognisable are undoubtedly the two paw prints on her chest.

Celebrity Tattoos

<strong>Lady Gaga</strong> Mother Monster has 10 tattoos, but they're all on the left side of her body because her dad asked her to keep one side of her body "slightly normal."

Celebrity Tattoos

<strong>Hayden Panettiere</strong> The Heroes star's tattoo reads "Live without regrets" in Italian, but the phrase is misspelt since the tattoo artist accidentally added an extra "i" to "Vivere senza rimpianti."

Celebrity Tattoos

<strong>Heidi Klum</strong> The model's squiggle-and-star tattoo on her arm is actually a tattoo of ex-hubby Seal's name.

Celebrity Tattoos

<strong>Helen Mirren</strong> The Oscar-winning actress regrets the tattoo she got on her hand as a young woman, which she insists was a drunken mistake that seemed like the most "shocking" thing Mirren could think of doing at the time.

Celebrity Tattoos

<strong>Johnny Depp</strong> The heavily tattooed actor's body art is more than just ink on skin. He told Aspen magazine: "I consider tattoos my diary. I received my first tattoo as a teenager. My skin is a record of my life."

Celebrity Tattoos

<strong>Jennifer Aniston</strong> Aniston got her first and only tattoo at the age of 42: the word "Norman" on the inside of her right foot, a tribute to her Welsh corgi-terrier mix who died at the age of 15 in 2011.

Celebrity Tattoos

<strong>Kate Moss</strong> The supermodel's collection of tattoos includes swallows, a crescent moon, anchor and star, all of which inspired a collection Mossy designed for high-end jeweller Fred.

Celebrity Tattoos

<strong>Katy Perry</strong> The singer has a few tattoos, including a strawberry on her ankle, peppermint on her foot, the word "Jesus" on her wrist and a Sanskrit phrase meaning "Go with the flow" on her bicep, a tattoo ex-hubby Russell Brand also got.

Celebrity Tattoos

Leona Lewis Leona debuted her neck tattoo in 2010, explain to Grazia magazine: "It's a poem - about horses. The last bit is a quote but I made up the rest. Their beauty captures every eye/A gift from God for all mankind/ They lend us wings so we may fly/ To ride a horse is to ride the sky."

Celebrity Tattoos

<strong>Lea Michele</strong> The Glee star may play a good girl on TV, but with 14 inkings, she's got a love affair with bad girl tattoos. The two musical notes on her left shoulder are from Queen's Bohemian Rhapsody, and she also has a gold star in honour of her on-screen alter-ego, Rachel Berry.

Celebrity Tattoos

<strong>Kelly Osbourne</strong> Kelly's rock-'n-roll pedigree is apparent from her 15 tattoos, but the E! Fashion Police panellist doesn't seem to love the results. She's compared getting inked to self-harming, and in 2010 began laser treatment to get most of her tattoos removed.

Celebrity Tattoos

<strong>Lindsay Lohan</strong> Lindsay recently added a tattoo saying "Live Without Regrets" to her extensive body art collection, which includes the Marilyn Monroe quote "Everyone's a star and deserves the right to twinkle" and the lyrics "Clear as a crystal sharp as a knife, I feel like I'm in the prime of my life," from Billy Joel's 1989 hit I Go to Extremes.

Celebrity Tattoos

<strong>Megan Fox</strong> The starlet has multiple inkings, including the phrase "We will all laugh at gilded butterflies" and a tattoo of Marilyn Monroe, which she is currently getting lasered.

Celebrity Tattoos

<strong>Melanie Griffith</strong> To commemorate her fourth wedding anniversary to husband Antonio Banderas, Melanie decided to wear her heart on her sleeve - permanently - with a heart tattoo devoted to her paramour.

Celebrity Tattoos

Mel B The former Spice Girl decided to pay tribute to her daughter Phoenix Chi with a phoenix rising from the ashes on her arm.

Celebrity Tattoos

<strong>Mel C</strong> The former Spice Girl associates her tattoos with difficult times in her life - like her battles with depression and anorexia - and reportedly started undergoing tattoo removal in 2008. She has since spoken out about tattoos, advising fans to "think long and hard" before getting inked and to opt for body art in "discreet" places.

Celebrity Tattoos

<strong>Miley Cyrus</strong> Possessing over 10 tattoos before the age of 20, Miley's body art is a sign she's ditched her Disney past in favour of a rock chick present. The star loves to show off the dream catcher tattoo on her right rib in cut-out tees and revealing tops.

Celebrity Tattoos

<strong>Nicole Richie</strong> The reality star-turned-designer has angel wings on her shoulder blades, a rosary on her ankle, a cross on her lower back, ballet slippers on her pelvis, a bow with the word "Richie" beneath on her neck, "Virgin" on her wrist, a shooting star on the other wrist and a tiara on her hip.

Celebrity Tattoos

<strong>Nicki Minaj</strong> The inking on the rapper's left arm is reportedly in Chinese and translates to "God is with me."

Celebrity Tattoos

<strong>Pamela Anderson </strong> Pam's barbed wire tattoo is as memorable as the rest of her physique (let's be honest, it's often the only thing she's got on), but the actress blames sharing a tattoo needle with ex-hubby Tommy Lee for contracting the liver disease Hepatitis C.

Celebrity Tattoos

<strong>Tulisa</strong> The X Factor judge has a unicorn tattooed on her shoulder blade, and also has the phrase "The Female Boss" - the name of her first fragrance - tattooed on her forearm.

Celebrity Tattoos

<strong>Rihanna</strong> RiRi has 14 tattoos on her body and the singer's love affair with ink began with a music note tattoo on her foot in 2006. In addition to the sprinkling of stars down her neck, Rihanna's tattoos include a gun on her ribcage, the word "Shhh..." on her index finger, a skull with bow on her ankle, the Pisces sign behind her right ear and the words "Rebelle Fleur" on her neck.

Celebrity Tattoos

<strong>Vanessa Hudgens </strong> The former Disney star has a few tattoos, and her first inking was the butterfly on her neck - significant for the star because Vanessa means "butterfly" in Latin.

Celebrity Tattoos

<strong>Victoria Beckham</strong> The Hebrew writing on Victoria's neck reads "I am my beloved's and my beloved is mine."