Are Buffalo-style platforms about to make a comeback? After browsing the Prada Spring/Summer 2013 show in Milan yesterday, it definitely looks like Miuccia Prada is on the case.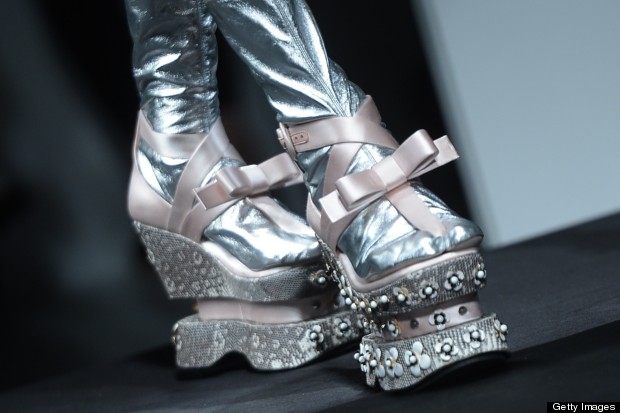 Platforms were prominent in Prada's Autumn/Winter 2012 collection, but next season's styles take on new heights, with these weirdly wonderful, sandals and socks ensembles.
Nicole Phelps' review for Style.com referred to the footwear as a mix of "towering Harajuku girl platforms" and "leather judo socks", adorned with bows.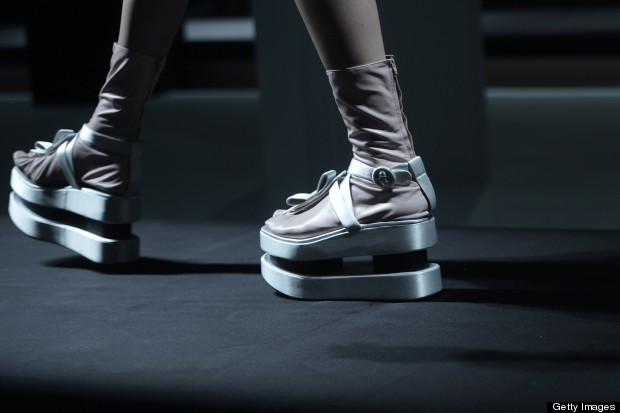 However, leather socks aside, these shoes took us back to Geri Halliwell's platform fetish from her early Ginger Spice days. Remember this?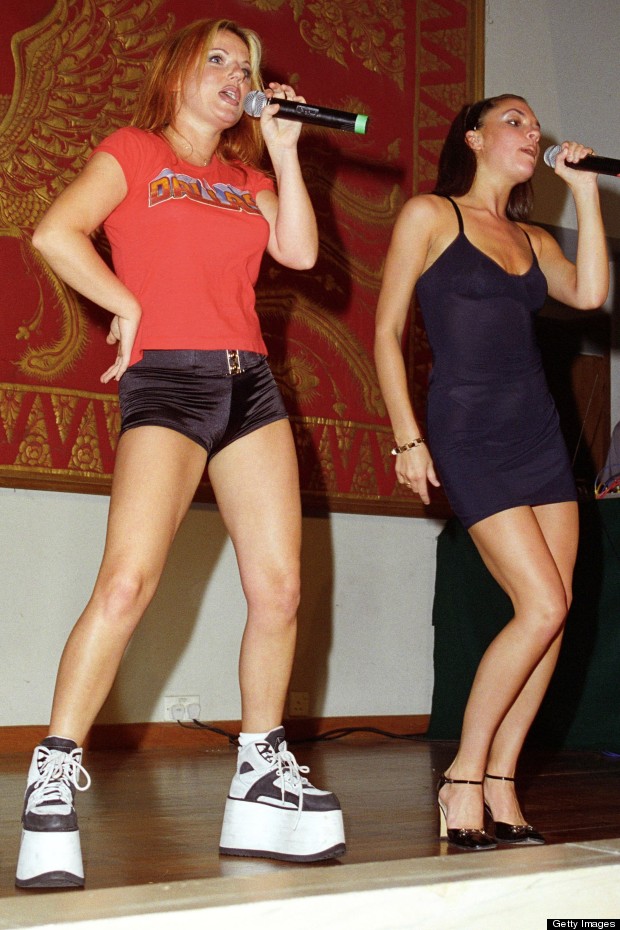 We're ready for a platform revival.
Let us know how you rate Prada's Spring shoes and see more from the Italian fashion house in our highlights gallery below:
Loading Slideshow
Milan, S/S 2007

A male model presents a Prada creation.

Valencia, 2007

Patrizio Bertelli, chairman of Prada, and his wife, designer Miuccia Prada, in Valencia.

Milan, A/W 2007/8

Models walk the catwalk during the Prada fashion show.

Milan, S/S 2008

A model wears a checked dress on the runway at the Prada show.

Christina Aguilera, 2008

Singer Christina Aguilera wears Prada at the Royal Albert Hall.

Milan, A/W 2008/9

A model wears a cream lace pencil skirt and tan shoes.

Milan, A/W 2008/9

A model wears tan shoes by Prada.

Milan, S/S 2009

A model falls on the catwalk during a show.

Nicole Kidman, 2009

Actress Nicole Kidman wears a black strapless gown at the premiere of <em>Time</em>.

Scarlett Johansson, 2009

Actress Scarlett Johansson wears a cream dress in California.

Milan, S/S 2010

Models walk the runway as part of the finale.

Milan, S/S 2010

A model displays a swimwear creation by Prada.

Milan, A/W 2010/11

A model wears a powder-blue sweatshirt.

Milan, S/S 2011

A model wears a white and blue sweatshirt and sunglasses.

Milan, A/W 2011

Anna Dello Russo attends the Etro fashion show wearing Prada.

California, 2011

Actress Elizabeth Banks wears Prada wedge shoes.

Hong Kong, 2011

Assistants stand with Prada bags during a press conference.

California, 2011

Actress Dana Delany wears Prada.

New York, 2011

Atmosphere at Prada's Fashion's Night Out, New York.

Diane Kruger, 2012

Actress Diane Kruger wears Prada.

Cannes, 2012

Actress Berenice Bejo wears Prada at the Cannes Film Festival.

Milan, A/W 2012/13

A model wears a Prada creation.

Milan, A/W 2012/13

US actor Adrien Brody displays a creation as part of Prada Fall-winter 2012-2013 Menswear collection.

Milan, A/W 2012/13

Prada creations are displayed during the Miuccia Prada And Elsa Schiapparelli: Impossible Conversations opening exhibition.