 Tulisa Contostavlos showed off a newly bleach blonde barnet outside the Royal Courts of Justice after settling one of the legal actions she had brought over the publication of a sex tape made with ex-boyfriend Justin Edwards.
The X Factor judge won an apology from Edwards and gave a statement outside the court as reported in The Telegraph:
"Justin Edwards's actions were to spite me, make money and ruin my career. He has succeeded in none of these things. I stand here today a stronger, wiser young woman who has taken this experience and learnt from it."
Tulisa appeared to be celebrating drawing a line under the experience with her new hairdo but we can't help but think she should have heeded these cautionary photos from a certain actress over in the US because the similarity between their bonces is worrisome... Incidentally, Tulisa was also blonde during the time she was dating Edwards. We're not saying today's hair change is in any way meaningful on that front but it's something that popped into our brains so we thought we'd put it out there for you to read and then stroke your chins and say "Quite so, quite so..."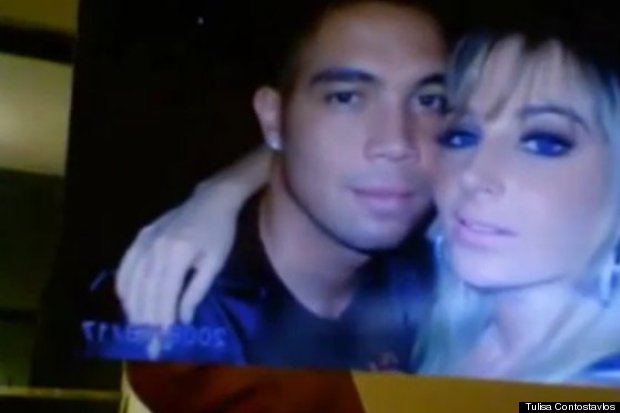 Loading Slideshow
Celebrity hair inspiration: Blondes

Sienna Miller Sienna Miller's red lips, sun-kissed skin and healthy-looking golden-blonde hair are all as stand-out as each other. Jealous? No!

Celebrity hair inspiration: Blondes

Cameron Diaz She's one sexy blonde - and Cameron Diaz works the bedhead look to perfection. Love the white-blonde hue teamed with just the right amount of bronze, and those popping hot-pink lips.

Celebrity hair inspiration: Blondes

Carey Mulligan Texturised, young and funky, Carey Mulligan's look perfectly suits her individual character, and the caramel and honey tones kept the look even more fresh.

Celebrity hair inspiration: Blondes

Christina Aguilera Now for something a little, well, different! Christina Aguilera mixes her platinum-blonde Heidi plait with a little splash of baby-pink. What do we think? The jury's out on this one...

Celebrity hair inspiration: Blondes

Emma Stone Emma Stone ditched her auburn red locks and went back to her golden roots for her role in the new Spiderman film.

Celebrity hair inspiration: Blondes

Gwen Stefani Beauty-wise, there are two things that spring to mind when you think of Gwen Stefani: her bright red lips and that gorgeous white-blonde hair. She knows how to rock both to perfection.

Celebrity hair inspiration: Blondes

Kate Moss Oh, how we're lusting after the perfectly-swept, Bardot-esque fringe that Kate Moss is famous for. Bronzed cheeks and her trademark cat's eyes complement the just-got-out-of-bed styling.

Celebrity hair inspiration: Blondes

Lady Gaga Lady Gaga sports Rupunzel-length hair for shopping trip in Japan.

Celebrity hair inspiration: Blondes

Reese Witherspoon Megawatt grin, megawatt blue eyes, and megawatt ash-blonde hair - Reese Witherspoon is all about the glamour factor.

Celebrity hair inspiration: Blondes

Scarlett Johansson We just love this seriously sexy, feminine look on Scarlett Johansson. She makes a nod to the two-tone trend with her ash-blonde locks turning a little more honey-hued towards the bottom.