While some celebs used the CFDA Awards as an opportunity to work the sexiest outfits in their wardrobes, other stars decided it was the right occasion to work sweet and romantic-inspired style.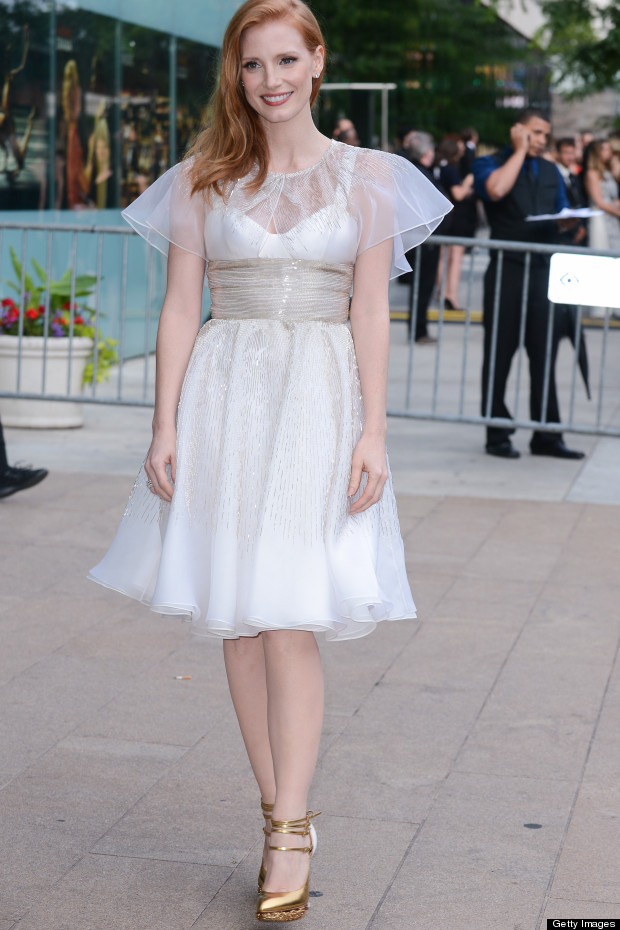 Jessica Chastain opted for an ultra-girly metallic chiffon overlay dress with frill sleeves by Prabal Gurung, while Mandy Moore looked radiant in a floor-sweeping draped Lela Rose dress with embellished shoulders.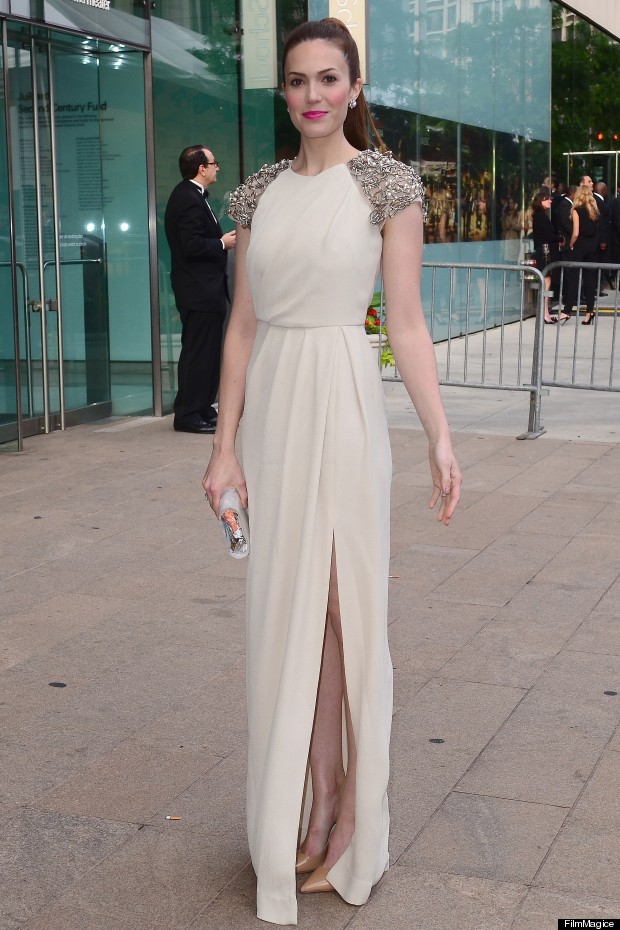 Lily Collins brought her signature brand of fairytale style to the red carpet in a high-necked gold embroidered mini-dress by Marchesa.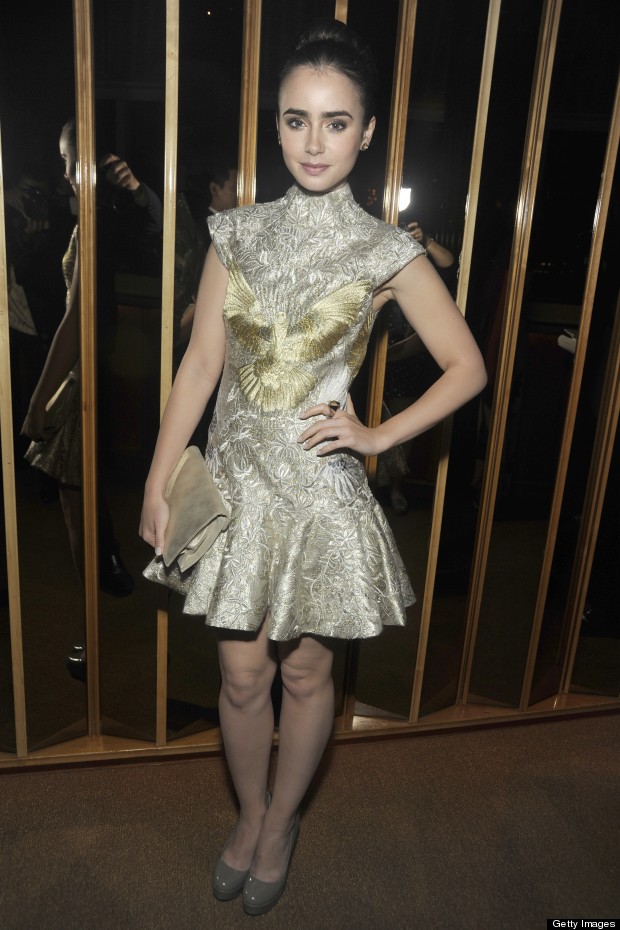 Whose princess-y style is your favourite? Leave a comment and let us know and don't miss our gallery of CFDA Awards style below.

Loading Slideshow
2012 CFDA Fashion Awards - Arrivals

Heather Graham and Nicole Miller

2012 CFDA Fashion Awards - Arrivals

Solange Knowles

2012 CFDA Fashion Awards - Arrivals

Designer Joseph Altazurra and actress Kate Bosworth

2012 CFDA Fashion Awards - Arrivals

Michelle Harper

2012 CFDA Fashion Awards - Arrivals

Stylist Rachel Zoe

2012 CFDA Fashion Awards - Cocktails

Jessica Chastain

2012 CFDA Fashion Awards - Winners Walk

Ashley Olsen and Mary-Kate Olsen

2012 CFDA Fashion Awards - Arrivals

Heather Graham

2012 CFDA Fashion Awards - Cocktails

Lulu Johnson and Betsey Johnson

2012 CFDA Fashion Awards - Cocktails

Actress Julianne Hough

2012 CFDA Fashion Awards - Cocktails

Jason Wu and Jessica Stam

2012 CFDA Fashion Awards - Show

Actress Jessica Chastain speaks on stage

2012 CFDA Fashion Awards - Dinner

Actress Kate Bosworth

2012 CFDA Fashion Awards - Cocktails

Lily Collins and Rachel Zoe

2012 CFDA Fashion Awards - Dinner

Sophia Bush

2012 CFDA Fashion Awards - Arrivals

Model Karen Elson

2012 CFDA Fashion Awards - Arrivals

Model Karolina Kurkova

2012 CFDA Fashion Awards - Dinner

(L-R) Rachel Zoe, Devon Aoki and Stacey Bendet

2012 CFDA Fashion Awards - Dinner

Arizona Muse, Jessica Stam and guest

2012 CFDA Fashion Awards - Cocktails

Actress Jennifer Tilly and guest

2012 CFDA Fashion Awards - Dinner

(L-R) Crystal Renn, Zac Posen, and Stephanie Winston Wolkoff

2012 CFDA Fashion Awards - Arrivals

Designer Phillip Lim (L) and guest

2012 CFDA Fashion Awards - Cocktails

Actress Sophia Bush and guest

2012 CFDA Fashion Awards - Cocktails

Stylist Brad Goreski and guest

2012 CFDA Fashion Awards - Cocktails

Tracy Smith

2012 CFDA Fashion Awards - Arrivals

J.Crew President & Executive Creative Director Jenna Lyons and Solange Knowles

2012 CFDA Fashion Awards - Arrivals

Ashley Olsen

2012 CFDA Fashion Awards - Arrivals

Elettra Wiedemann and designer Rachel Roy

2012 CFDA Fashion Awards - Cocktails

Lana Marks

2012 CFDA Fashion Awards - Dinner

Michelle Harper

2012 CFDA Fashion Awards - Dinner

Candice Swanepoel and guest

2012 CFDA Fashion Awards - Dinner

Designer Brian Atwood and model Karolina Kurkova

2012 CFDA Fashion Awards - Dinner

(L-R) Model Crystal Renn, actress Heather Graham, designer Zac Posen, model Erin Fetherston and designer Nicole Miller

2012 CFDA Fashion Awards - Dinner

Designer Jack McCollough, Grace Coddington, designer Lazaro Hernandez and actress Dakota Fanning

2012 CFDA Fashion Awards - Cocktails

Model Erin Fetherston

2012 CFDA Fashion Awards - Arrivals

Stylist June Ambrose (C) and guests

2012 CFDA Fashion Awards - Arrivals

Natane Boudreau

2012 CFDA Fashion Awards - Arrivals

Michelle Harper and designer Christian Cota

2012 CFDA Fashion Awards - Arrivals

Tabitha Simmons and Karen Elson

2012 CFDA Fashion Awards - Cocktails

Zosia Mamet (R) and Designer Cynthia Rowley

2012 CFDA Fashion Awards - Arrivals

Padma Lakshmi and designer Naeem Khan

2012 CFDA Fashion Awards - Arrivals

Ally Hilfiger

2012 CFDA Fashion Awards - Arrivals

Tory Burch (L)

2012 CFDA Fashion Awards - Cocktails

Dakota Fanning and guests

2012 CFDA Fashion Awards - Arrivals

Vivienne Tam

2012 CFDA Fashion Awards - Arrivals

Designer Betsey Johnson and Lulu Johnson

2012 CFDA Fashion Awards - Winners Walk

Garance Dore and Scott Schuman

2012 CFDA Fashion Awards - Arrivals

Designer David Meister and actress Sophia Bush

2012 CFDA Fashion Awards - Winners Walk

Tabitha Simmons and Lily Collins

2012 CFDA Fashion Awards - Arrivals

Mandy Moore and designer Lela Rose

2012 CFDA Fashion Awards - Cocktails

Olivier Theyskens and Constance Jablonski